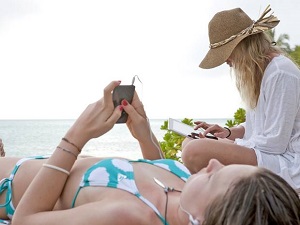 Chances are that if you're planning a holiday, you'll already be making a checklist of important things to remember before you head to the airport. Whether it's a photocopy of your passport, or making sure you've got enough foreign currency, the whole process of preparing for a holiday can be a stressful one.
With that in mind, here's a more light hearted list of non-essential, but really useful items and apps to keep things running smoothly and improve your holiday experience:
Pre Loaded Cash Cards
Carrying wads of cash around with you on holiday is stressful, and in addition, your bank or credit card company could charge large conversion fees on foreign currency. The best solution is a top up cash card. You load it before you leave (or whilst on holiday if you have internet) and you'll enjoy much better exchange rates and less charges. In addition, it's a great way budgeting your cash.
Mobile Phone Power Pack
Your mobile phone is going to get a lot of use on holiday. Whether it's checking emails, using GPS, listening to music or movies on the plane, the battery will be dead in no time. Invest in a mobile power pack that will allow you to recharge your USB devices on the go. You can even get solar powered versions. They might be a little redundant in the UK, but they're Perfect for the Mediterranean!
Google Maps and Translate
Okay, so most people will be aware of Google Translate. If you've been living under a rock, or haven't got around to trying this service out, make sure you install it before you leave. It will solve many of those communication problems you usually encounter in shops and restaurants! Likewise, Google Maps is a traveller's dream. You can save maps offline so you're not eating into your precious data allowance.
Cheap or Free International Calls
Skype is the gold standard for free internet calls. Make sure you set up the app before you leave home, and you won't have to pay a penny for calls back to the UK. If you're in a country with patchy WiFi service, then you might want to consider a cheap call service like cherry-call.co.uk, where you can dial home via a special code and receive very cheap rates compared to your mobile provider.
Evernote
There's a million and one travel apps out there that all do a fantastic job, but Evernote, whilst not strictly for travelling, is the best of the bunch. It doesn't do anything fancy, but what it does, it does well. This is the best app to store, sync, and share flight numbers, hotel booking information, as well as passport photo copies and other vital stuff. You can also use Evernote to back up and sync a holiday journal too.
So there you have it, some top apps, gadgets and services to keep you organised and connected on your next holiday. All you need to do now is make sure you've packed your passport!
Harry Price is a freelance writer and entrepreneur who specialises in guest blogging. He enjoys travelling and hiking in the mountains with his 3 dogs.