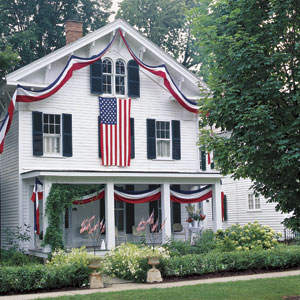 Celebrating America's independence can be as patriotic as you make it. From a quiet family gathering to a huge block party where your neighbors and their families all get together for a night of good fun, good friends and good times. Don't forget to set fireworks off inside your home with the right holiday home interior decor for your fourth of July bash!
Let That American Flag Fly Proudly
Displaying the American flag is part of what makes this holiday so patriotic. Showing the love you have for your country is important and lets others know you are proud to be an American. Tiny American flags can be placed in flower arrangements inside the home and potted plants located outside. They can also be handed out to your guests and the kids can run around the yard flying them proudly.
Large flags can be flown on posts attached to the side of the home or from a flagpole in the middle of the yard. The best part of the American Flag décor is that it is not something to be taken down after the party is over; it is a lovely decorative addition to your home to be flown proudly year round.
Setting a Patriotic Table
Holiday table decorations can set the theme for your Fourth of July celebration. Red, white and blue placemats, tablecloths and napkins are just the beginning. Hamburgers and hot dogs are the foods of choice at many American cookouts. Round out the dinner with traditional potato salad and a large glass of ice tea and you have the makings of patriotic gathering for your family and friends. Red, white and blue Jello or fruit displays with berries such as: blueberries, raspberries, and strawberries are refreshing additions to your table as well.
Place cards and center pieces may be added to the tables to for a little extra patriotism. Flower arrangements made with red, white and blue flowers and ribbon reinforce the connection to this country and the American flag. Include a few balloons and other patriotic party decorations and you have a table fit for any proud American citizen. Candle holders set the table nicely and add a soft glow when the sun goes down.
Accents Around The Home
Decorative throw pillows are a great way to add splashes of red, white and blue throughout your home. There are American flag pillows as well. Outdoor pillows spruce up patio furniture and carry your theme outside for when the fireworks display begins! If you are feeling decoratively ambitious, consider American Flag bedding to carry the theme through all the rooms of your home.
A nice bedspread, alternating red, white and blue sheets and decorative throw pillows are another great way to express your patriotism and hey, who says you have to change it out once the fourth of July is over.
The 4th of July has always been a time family gatherings, backyard barbecues and patriotic celebrations. It's easy to increase the fun and festivities by adding a few patriotic touches. Throw in a little baseball, hot dogs and grandma's apple pie it's just what you need to make America's independence day memorable.
+Paul Reichman introduces home necessities with stylish extra trimmings for your bed, bath, kitchen and living spaces at Bedbathstore.com