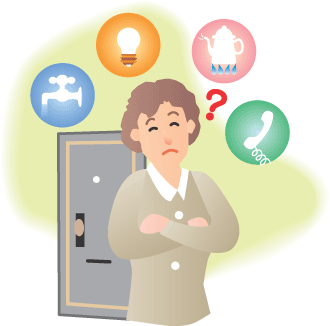 Our handy guide offers you tips and advice to make sure you don't get stuck with an expensive tariff when you move into your new home.
Before moving day
1. Notify your current energy supplier
Give your energy supplier a call at least 48 hours before the big move. Remember to tell them your moving date and new address so they can forward your final bill.
2. Take a meter reading
Take a meter reading on moving day to avoid being overcharged on your final bill. Pass your reading on to your supplier and make a note for your own records. You will be sent a final statement to settle your account once you have moved out.
After moving to your new home
1. Find out which energy company supplies the property
When you move into your new home, you'll find you've been automatically placed on a 'deemed contract' with the energy company that has been supplying the property up until the date you moved in.
To find out your gas supplier, you can call the Meter Number Helpline on 0870 608 1524.
To find out who supplies the electricity to your new property, contact the local electricity distribution company. We've listed the relevant numbers by region below:
Scotland North 0845 0262 554
Scotland South 0845 270 9101
North East England 0845 601 3268
North West England 0870 751 0093
Eastern England 0870 196 3082
Southern England 0845 0262 554
South West England 0845 601 5972
South East England 0845 601 5467
London 0845 601 5467
Yorkshire 0845 330 0889
Merseyside and North Wales 0845 270 9101
South Wales 0845 601 5972
West Midlands 0845 603 0618
East Midlands 0845 603 0618
2. Pass your meter readings onto the existing energy supplier
Call your new home's existing energy supplier and provide them with your details, meter readings from your new property and the date when you moved in. Using this information, they will create an account for you.
Most suppliers will automatically place you onto their standard tariff when you first move in.
Check if you can get a better deal on your gas and electricity
Now that you have the details you need, such as your new postcode, supplier name and tariff name, you can run an energy comparison site to make sure you're getting the best rate. You can also check to see if you're on the best tariff your current company has to offer.
Switching
It takes between four and six weeks to switch supplier. Your new energy supplier will usually contact you within ten days after making your application. You don't need to inform your existing energy company if you decide to switch because your new energy company will tell them for you.
To ensure your switch goes smoothly, you can:
take another meter reading on your switch date, and give this to both your old and new energy suppliers. Do this as soon as possible, to ensure an accurate first bill.
settle your final bill promptly
Matt Fear is a home improvement guru and general handyman. He blogs regularly on his projects and offers tips, advice and practical guides on making a house a home in the most economic ways possible.