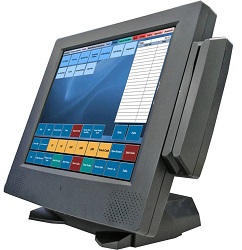 Many retail businesses nowadays opt for touch screen point of sale systems as opposed to the pioneering PC setups. This comes with plenty of benefits. The most obvious being the fact that a tablet looks trendier than a desktop screen. Beyond improved aesthetics, touch screen POS terminals can de-clutter your workspace, support remote transaction process, among many other benefits.
Before investing in one of these innovative checkout systems for your business, get to know some of the minimum hardware requirements that you will need for each sale terminal.
Tablet Screen
Tablet screens are the most important components of any touch screen POS system. There are many tablet manufacturers in the market, but it is advisable to stick with a reputable brand. For instance, Apple's iPad tablet computers have a reputation for quality, reliability, and sleek designs. With a trusted brand, you can be certain of receiving warranties after purchasing your touch screen display for the POS terminal.
Barcode Scanner
Barcode readers are indispensable for retail stores that sell a wide range of merchandise to customers. With one of these gadgets, there is no need to search for individual items when processing sales transactions. The attendant at the POS terminal simply scans every item with the bar code device and all details, including price, item description, and quantity, are captured at once.
There are many kinds of bar code scanners in the market. Some are pretty basic while others come with advanced features. A cordless, Bluetooth enabled barcode scanner reduces the number of wires crisscrossing a sales workstation. Most importantly, choose barcode scanning devices that have an ergonomic design to minimize repetitive strain injuries.
Tablet Stand
A tablet stand simply mounts the touch screen tablet. It is important to have one of these hardware supplies because POS attendants work for long hours. The tablet stand makes it easy to operate the touch screen without holding it by hand. A good stand should allow the user to adjust height and viewing angles in order to create a comfortable working environment.
Receipt Printers
No point of sale system is complete without receipt printers. This is because every business transaction must provide the client with a receipt of received goods or services. POS printers come in all styles, and sizes. The best ones are those that use thermal printing technology. Thermal printers are considerably cheap, easy to set up, quiet, and provide quick printouts.
Credit Card Reader
If you want to provide your customers with flexible payment options, then a smart card reader is a must-have peripheral of any touch screen POS system. Some of the leading smart card providers can integrate their devices with POS apps for Smartphones and tablets. The most important thing you should look for however in a card reader is the security features. This makes it possible to handle secure transactions when accepting credit card payments.
Whatever hardware supplies you need for a touch screen EPOS system, it is important to use one vendor. This makes it easy to avoid compatibility issues besides allowing you to shop conveniently for electronic point of sale supplies.
Author Bio:
William Thompson is a retail store manager who loves to stay on top of the latest developments in the retail technology industry. He is also a contributing writer for http://www.i-pos.co.uk/. Check out that site to learn more about the latest hardware supplies for touch screen EPOS systems.