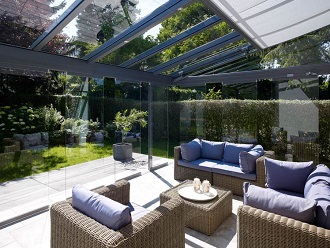 Until the last few decades, conservatories were often considered an unaffordable luxury and the reserve of the wealthy. Today, however, more and more people are able to afford high quality, customised home extensions that can greatly improve their quality of life and boost the value of their properties.
Why more homeowners are now extending their homes:
To create a multi-purpose living space
Provided they are properly insulated in cold weather and capture enough sunlight, conservatories are a great place to create an indoor garden and grow plants that are not hardy enough to survive the British winter. For example, you could easily grow a special herb garden comprising basil, parsley, coriander, thyme and rosemary to use for your day-to-day cooking by positioning them on sunny window sills. Many people also use conservatories as dining rooms, sitting areas, guest rooms or libraries, although the choice is entirely up to you.
Inspired by even greater choice
Because of their surge in demand in recent years and the growing competition among suppliers, homeowners are practically spoilt for choice with regards to conservatories. Many opt for period style designs featuring a lantern shape, while others prefer the inclusion wood in the interior and a pitched roof to maximise sunlight. The P shaped Victorian Hip provide an extra dimension of space for your conservatory, while the more simple rectangular 'Raked Lean To' design can be more cost-effective, while still offering all the aesthetic, practical and economic benefits of other specifications.
Conservatory suppliers will be able to offer more comprehensive advice on the most appropriate conservatory size for your home, which will depend on various factors such as the size of your garden, interior and whether you live in a detached or semi-detached property.
A lucrative investment
Over time, the cost of a conservatory can easily be compensated by a rise in value of your home. For example, a home valued originally valued at £300,000 that receives a new conservatory costing £12,000 could easily increase to more than £312,000 in value once the structure is finished. According to Paul Schofield from Apropos Conservatories, its aluminium buildings can cost as much as £250,000, a figure of which can easily be added to the value of a home, at the very least, once the extension is complete.
However, it is worthwhile remembering that the existence of a conservatory alone is not enough to 'automatically' raise the value of your home. If the building looks disproportionate or does not match the aesthetic appearance of your property's exterior, you may end up losing money.
Relaxed planning permission rules
In 2012, the Government announced plans to relax laws on planning permission for home extensions. The new rules, which came into effect in 2013, have increased single-store extension limits from six to eight metres for detached properties and from three to six metres for attached properties. Therefore, homeowners living in semi-detached properties can now extend their homes by twice the original length.
Finally, consider whether or not you will need planning permission
Generally, conservatories with an area of less than 30 square metres will not require planning permission, as long as they have an independent heating system .If your proposed conservatory exceeds more than 50 percent of the land surrounding your original home or is above four metres in height, you will need to obtain planning permission. A full list of limits and conditions can be found here.
Mark Caulfield is the founder of Caulfield Conservatories which has a team of highly skilled architects that specialise in creating luxury conservatory designs, and aim to help people build the conservatory of their dreams.