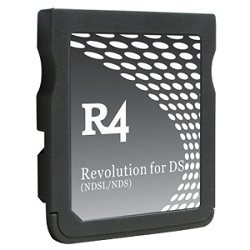 When you are purchasing an R4 card online, there are quite a few things that can make a good difference in what you spend your money on. The first and foremost thing is to understand why exactly you would require an R4 card for your Nintendo.
Why an R4 card?
Nintendo gaming consoles are probably one of the best available products in the industry today when you consider handheld gaming devices. The main competitor for Nintendo is Sony PlayStation's handheld console.
However, there is much more to it. While on its own the Nintendo handheld console will let you play only a few games, enhancing it with the help of an R4 card makes it much more powerful and versatile. You can play home-brew games on it, watch movies, listen to music and even read e-books.
How does an R4 card work?
An R4 card is like adapter that allows you to download, save and play games, videos, music and other files on your Nintendo console. In fact, the cartridge is nothing but a hardware that lets you connect a micro SD card with your Nintendo handheld console.
This means that an R4 card will not work without the correct micro SD card. Ideally, a micro SD card of capacity from 2 GB to 8 GB is good enough, based on your requirements. You need to download the correct firmware on this card and import the game files, movie files and other files to convert such files to the compatible formats for the Nintendo console.
For this, you will first have to connect the micro SD card with a PC or a laptop connected to the internet, either using a card reader or directly with the computer if it comes with an in-built card reader. Try and create separate directories for movies, games, music and other files, so that you can search easily for the correct files when the R4 cartridge is connected to your gaming console.
Once this is done, you will have to eject the card from your computer, place it in the micro SD card slot of your R4 card and then connect the cartridge to the Nintendo console. You can then choose the relevant directories, play the correct files and enjoy games, movies and more on your gaming console.
Buying the correct R4 card
Now that you know how the R4 cards work, it is time for us to look at the various types of R4 cards that you can go for when ordering for them online. When you check a good online store like www.ukr4cards.com that specialise in R4 cards for Nintendo consoles, you are likely to come across one of the following cards:
R4i
R4 DS
R4 2DS
R4 3DS
R4i 3DS
There are a number of other options as well. The fact is, you have to be careful which card you order, based on the type of Nintendo console you own. Different consoles work with different R4 cards. Select the correct card from a good online store selling authentic products and then place your order.
Finally, don't forget to order the right micro SD card to go with the R4 card you order!
Mathew is a professional blogger writing on gaming consoles and computers. Matthew cites a few simple things that you should not miss out on before you order a R4 card for your Nintendo handheld console.