Spring is here! This means gone are the days of oversized parkas, scarves, hats, gloves and boots. A new season means transitioning into a new way to dress for work. As business professionals, the appearance you put forth at work determines the amount of respect you receive and shows how serious you are about your job. Both of these are undoubtedly important things, which make getting ready to work and putting outfits together an important task each morning.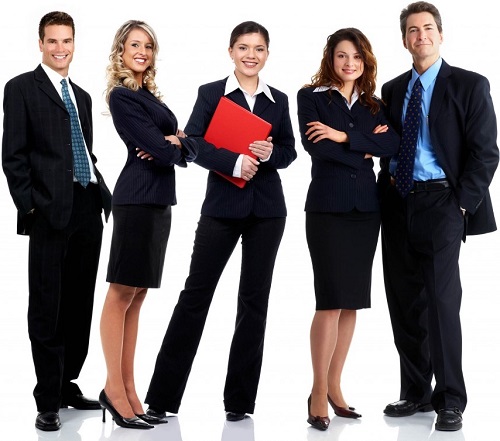 Outerwear
Much like any other thing worn to the office, a spring coat should fit well. Choose a lightweight, tapered option that is belted. The coat should hit at or slightly above the knee. Make sure that all buttons can close comfortably without bunching or gaping. Also choose a color that complements your business professional neutrals.
Dressing in Layers
The changes in spring weather and the temperature of one's office will make dressing in layers important. Opt for a button-down blouse, a sweater and a jacket. Make sure that the collars do not clash however. Accessorize the look with a scarf that keeps one warm in the breezy spring air and gives off a sense of importance.
Incorporate Spring Trends
It's ok to dress in trends as long as they still follow the company dress code and allow you to look prim and proper in the office. Try a pattern sheath dress that shows off one's classic beauty with a pair of two-inch heels. The well-fitted garment is flattering, commands attention and will have heads turning. Another spring trend for women is the midi skirt, a mid-calf length skirt that looks great with a slim silk button-down blouse. Wear this outfit for an important meeting.
Men's Spring Dressing Tips
Spring is the perfect weather for wearing a classic sports jacket as outerwear. The more adventurous type can add a narrow brim hat to the mix. If you prefer something more casual or if your work dress code is more lax, opt for a bomber style jacket or a lightweight car coat. An unstructured neutral color will make this a transitional jacket that will work for many seasons.
For men who wear suits or button-down shirts to work, now is the time to mix it up. Try a new pastel color or tie to add some punch to your outfit in the spring months. Not only will this command more attention, but show your lighter side, which will make you more likeable in the office.
Depending on your position, you may even get potential customers more interested in what you have to say and in turn, drive sales to yourself, your department or your company as a whole.
Talk about utilizing your outfit to benefit your own good!
No matter the weather or season, it is always important to choose pieces that fit well. Also never wear a trend or garment that doesn't suit your personal style, it will show. Dressing for the office doesn't have to be stale or boring, take time to put together outfits that are comfortable, look good and aren't too over the top, so that others will follow suit in the office too. Ultimately, looking good makes you feel good.
Image Design Consulting and its owner Sharon Kornstein AICI CIP offers etiquette training, wardrobe organizing and communications skills training. She also enjoys educating clients on the newsest fashion trends and is considered a top fashion stylist in New Jersey.