Is it worth taking the plunge and upgrading to the latest arranger workstation from Yamaha, the Tyros 5? This is the question that is on the lips of those who have fallen in love with the Tyros 4 since its initial release way back in 2010.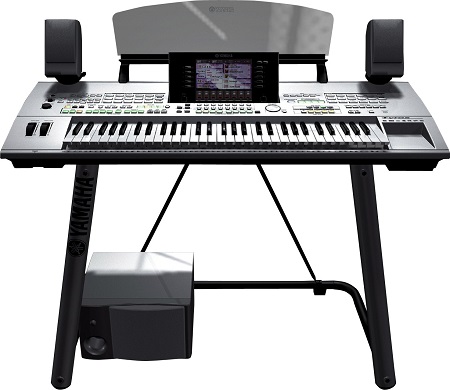 Visual differences
Like many upgrades, visually the Tyros 5 appears to only have slight aesthetic differences to its predecessor. But is that such a bad thing? We don't think so. Imagine your new Yamaha Tyros 5 has just arrived; you tear open the packaging like a small child at Christmas, eager to start playing with your new toy, but quickly find that the interface is completely alien to you. Before you start playing around, you have to sit down and patiently figure out where everything has been moved to – a real bugbear for those who just like to get on.
Thankfully, aside from a few misplaced buttons, the set up for the 5 is much the same as the 4, which means it won't take you long at all to familiarise yourself with the new layout and you'll be up and running in no time.
After all, the less time figuring out where everything is, the more time you can set aside for becoming a pro arranger (if you're not one already of course)!
What has been added?
It's been a long time coming, but Tyros lovers finally have the option of investing in a 61-note or a 76-note model. Whilst the 61-note model is more compact and convenient for live shows, many players who consider their Tyros as their main instrument will be thrilled that the 76-note keyboard is available. Some more key features of the new model include the high-quality effects that are integrated into every voice for greater acoustic accuracy, such as Real Reverb and Real Distortion.
These features share the same quality as actual effect devices, giving the same professional edge as Yamaha's high-end mixers. A cross fader function has also been added which handily allows you to adjust the volume balance between the MIDI song playback and Audio file playback.
Sound
Once you let your fingers dance over those brand spanking new keys and discover exactly how vivid and realistic the Tyros 5 sounds, you'll soon start to wonder why you ever questioned your upgrade.
From the beautiful rich warmth of the brass section to the bright, sharp attack of the drum and percussion voices, each sound truly comes alive thanks to the Tyros 5's new sound engine. The keyboard flaunts its new sounds and styles spectacularly and there is no doubt that Yamaha has mastered that all-authentic sound that players have been yearning for since the dawn of digital technology. If anything sets the Tyros 5 apart from any other keyboard, it is its first-class sound quality.
Is it worth it?
So let's cut to the chase here – is the 5 worth the extra money if you're finding it difficult to cut ties with your beloved Tyros 4? Well, after testing it out for ourselves, we most definitely think so. This beautifully crafted and engineered keyboard will keep you entertained by its cutting-edge features for hours, while its elegant, sleek design will ensure it looks the part in any live or studio setting.
The endless sounds and styles that are at your fingertips are a force for any experienced player to reckon with, and with all the new features and general sense of realism that the Tyros 5 offers, it's most definitely a purchase that will help you develop your creativity and technical skill.
The Tyros 5 is no toy – it's a stunning example of what modern technology has allowed us to achieve. Go and explore its exquisite sounds and advanced capabilities for yourself and I promise you you'll be kicking yourself for not trying out the Tyros 5 sooner.
Emma Solomons is the manager of the Allegro Music Westcliff store, who are a part of the Allegro Music Academy which offers high-quality music lessons to anyone of any age.