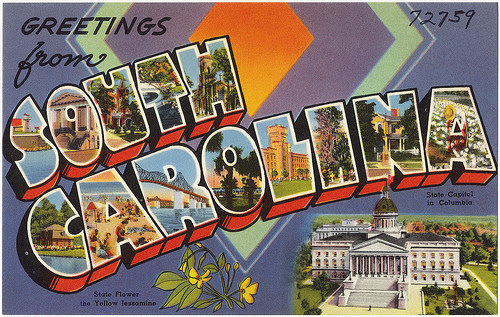 Now that the economy has slowly improved, and Baby Boomers are recovering money they lost during the recession of the mid-2000s, many can once again think about retirement. The first question they'll need to answer is where they should go.
While Florida and California are always favorites among retirees for their warm weather and attractions, they can also be prohibitively expensive. It's for this reason that I would argue that Baby Boomers should consider South Carolina for their golden years.
South Carolina is a perennial on many publications' "Best Places to Retire" lists, and for good reason. Let's take a look at several reasons why many retirees call South Carolina home.
I don't know about you, but it pretty bad winter for many people in the North. I would be happy with never seeing a snowflake again. While I can't promise you that you'll never see a snowflake again, I can tell you that you'll have a much better chance of staying warm here than let's say most of the country. South Carolina enjoys the same sub-tropical climate that Florida does, which means you won't need to break out a scarf and gloves for most of the year.
When people think of South Carolina's draw, one of the first things that they must consider is South Carolina's Lowcountry region. Here, there are 150 miles full of sandy, white beaches that aren't nearly as crowded as you'll find in other coastal regions along the East Coast. If you like the beach, I definitely recommend you check out Isle of Palms real estate. Front Beach is one of the best beaches on the East Coast.
As someone who lives in New Jersey, I can tell you that it's no fun to live in an area with high property taxes. NBC News recently did a ranking of the best places to retire, and they chose South Carolina as one of the places for the fact that it ranks among the best in property taxes. South Carolina also doesn't have an estate tax. These are crucial when considering the overall cost of living of a place. A dollar can stretch much farther than it could in other retirement spots.
Do you like peaches? Don't let Georgians or Californians tell you any different. South Carolina has the best peaches in the country. This is not up for debate. Go to any road stand in South Carolina in the summer, and you're bound to find the best peach you've ever had.
You should be active in your retirement. For many retirees, this means getting out on the golf course to hit 18 holes. That same Lowcountry region has some of the best golf courses in the nation, including The Ocean Course and Yeamans Hall Club.
On top of all these reasons, you're bound to find that life in South Carolina is a little more relaxed. When you consider that one of the leading causes of aging is stress, a slower pace of life doesn't sound like a bad idea at all.
Hailey is far away from retirement. She freelances both articles and photography for a number of lifestyle blogs.