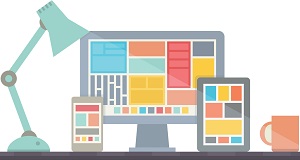 Whether you're looking to completely rebrand your company or simply create a dynamic logo for a startup, choosing the right company to create something that's in line with your vision can be a tough endeavour. Use these tips to make sure you choose the right people for the job:
1) How Does Their Website Look?
It sounds pretty obvious, but a decent design company is going to throw everything they have at their website. You should look for a company whose site matches the kind of style that you're after. It'll be much easier working with someone if they have a similar vision to yourself.
2) Does The Portfolio Excite You?
You should make sure the design agency has an up to date portfolio. Just like the website, you should be checking out what sort of styles are common throughout their work. You also might want to check if they have experience in your particular field. If the company has a history of producing lots of corporate work, they might not be ideal for a trendy local startup.
3) Always Check For Testimonials
A decent design agency should have a whole stack of testimonials if they've been in business a while. The companies don't have to be huge multinationals; you just need to get an idea about how the agency treats its clients and how easy they are to work with. If you're feeling proactive, you could even call up some of the featured companies.
4) Do They Specialise In A Single Area?
Again, some agencies will be better at working with larger corporate clients, whilst others will offer services to smaller businesses. Beyond that, it's important to find out if they're designing in the areas that you require: Web design and digital publishing isn't the same as traditional print media. Do some research.
5)  Availability
You should be able to schedule regular meetings throughout the design process, and if the agency is based miles away, you're going to need to know if they can provide conference calls or webinars to move the process forward. You don't necessarily have to go with a local company, but be sure to work out the logistics.
8) Do You Feel Comfortable Working With Them?
A decent agency should provide you with a single point of contact that you can bounce ideas off of and voice your opinion with. You don't want to be dealing with a different member of the team each time. Having a project manager will go a long way to a smooth, easy going design process. Likewise, it's good to check if the agency outsources work, as this could lengthen and complicate the process considerably.
9) Check The Small Print
Creative services are difficult to schedule and plan. You must get a clear proposal and contract stating what the service will entail, what the result will be, and when each stage of the draft designs will be submitted. You also need to know how many revisions you're allowed to ask for if you don't like the results!
10)  Don't Be Afraid To Request Changes!
Good design can make or break a logo or company brand. Whilst it's imperative to let the design team get on with their work and also to let them guide you through the process with the minimum of fuss, it's also important that you voice an opinion! Don't sit in silence if you're unhappy with the way things are looking. Design is a very personal thing, it's important you put your own mark on it.
By Harry Price
Harry Price is a guest blogger and entrepreneur. He transitioned from being an interior designer in New York to a travelling freelance writer and is enjoying every minute of it.