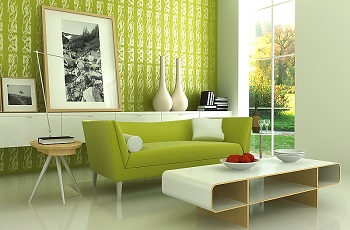 These days, we are all focused on the aesthetic appearance of our homes. It does not matter whether or not we want to have our interior or exterior worked on; either way, the appearance of our households make a huge impression on others, especially if you aim to please or to sell.
After all, it is better to have a finished home than to purchase a fixer-upper (unless that is your target audience). Regardless, a home is a sanctuary, a place of rest and relaxation; if your home stresses you out due to its appearance or lack of upkeep, then it might be time to consider a few helpful options.
1. Paint your walls. According to HGTV, there are currently 8 brilliant color trends out there. If the thought of having a color that is viewed as unique and brilliant interests you, then take it from the professionals. These brilliant color options include the following:
·         Vibrant pink (excellent for bathrooms)
·         Turquoise (a good choice for bedrooms or for home offices)
·         Yellow (perfect for living rooms)
·         Ocean blue (a great option for rooms with chinaware)
·         Warm coral (this can be used for living rooms, family rooms, or kitchens)
·         Sky blue (this works well for sunrooms)
·         Citrus (another great option for bathrooms)
·         Lime green (wonderful for your walkways)
2. Work with your windows. Sometimes, windows can make a gigantic difference; after all, they provide wonderful views so you can admire your back or front yard. There are custom window treatments out there which can really shape up and add flair to your home. Consider new shapes such as more rectangular options. You can also play up your windows with fun curtains; for example, if you have a square window but want to give it some new appeal, consider covering up the window with half of the curtain top to simply add some instant appeal.
Another exciting option is to exaggerate your windows by using very long curtains to place more emphasis on the window by grabbing the attention of others. If your drapery does not meet your unique window tastes, then contact your tailor who can easily help you obtain your curtain goal in order to achieve an exciting new window experience.
3. Go outdoors. Yes, that's right—do not forget the importance of a backyard. Plant a garden with some gorgeous and vivid flowers, or create a brick walkway. Better yet, consider using aluminum railings to designate your gardening area or another particular part of your backyard that you cherish. Don't forget to add some fun accessories to your backyard, such as a water fountain or a brand new pool.
These are only three ideas out there which can help you to achieve a better and more profitable home. If improving your home has been in the back of your mind for a while now, these tips can absolutely help. They provide the basics of owning a home, keeping it presentable, and adding a touch of uniqueness and quality which will make your precious home to stand out from the rest. Don't forget to invite your neighbors, family, and friends to see your brand new developments, either.
Coquille Bowie is an interior decorator living in Southern California. She has traveled to many parts of the world, including Hawaii, Spain, Australia, England, and Italy to assist others with their interior decorating needs. She lives with her husband, John, who she met during an interior decorating course in college. Her passions include interior decorating, art, music, writing, and shopping.