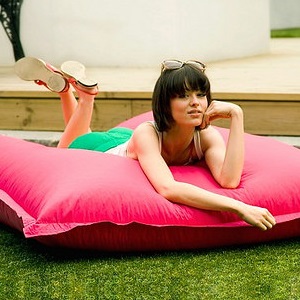 When choosing beanbags for the home it is important to consider who they are going to be used by, what they are going to be used for and where they are going to be used because all of these factors have an effect on which beanbags will be best for the job.
The days of one-size-fits-all beanbags are thankfully long gone and with all the different shapes, sizes and materials that are available from a good beanbag manufacturer, it is possible to match a beanbag to certain areas of the house, certain uses and certain people.
This is particularly true when it comes to comparing beanbags that are better suited to outdoor use and those that are best kept for indoor use only.
Attributes of a Good Outdoor Bean Bag
Durable – Durability has to be top of the list for an outdoor bean bag. It must be hardwearing to use on grass, concrete, decking and other outdoor surfaces. Not only should it be covered in a tough fabric, but it also needs a tough construction. A good outdoor bean bag will have double stitching and overlocked stitching on seams to prevent splitting and double zips and insert bags to prevent disastrous spillage of the superior virgin grade bean filling.
Water-resistant – We all know that the weather can be unpredictable even on the hottest days of the year. An outdoor bean bag should always be taken in when finished with and if it rains, but it still needs to be water-resistant so it doesn't get damaged by a few drops of rain as it is carried indoors. Water-resistant fabric also stops it being ruined by the occasional spilled drink or splashes from hose pipes and sprinklers.
Wipe clean – Grass, mud, tomato ketchup and ice cream stains are all evidence of a good British summer, but can spoil delicate fabrics. With outdoor bean bags there is no need to worry. It doesn't take much to wipe marks off a good outdoor bean bag.
Highly portable – A lightweight and portable bean bag can be moved in and out of the house and from shade to sun spots and back with no bother at all. This means they can also be taken camping, caravanning or to the beach.
Versatility of seating position – Upright and well supported for reading and al fresco dining; flat for lounging and sunbathing; and somewhere in between for relaxed, informal outdoor entertaining and socialising; the possibilities are endless. With a Bazaar Bag Flex you can have all this in just one bean bag.
Comfortable – Outdoor bean bags offer a great opportunity to enjoy the outdoors in comfort without sitting on damp grass, experiencing the discomfort of plastic chairs sticking to bare legs or coming away bruised from stones sticking up under a towel or blanket.
Attributes of a Good Indoor Bean Bag
Range of fabrics to complement any interior style – With more variation in interior styles than exterior styles, it is essential for indoor bean bags to offer a wide range of textiles and designs to appeal to every customer's taste. If a bean bag isn't being used outdoors then it can be manufactured in more luxurious fabrics, such as real leather, faux fur, chenille and corduroy. Faux leather and faux suede offer a great chance to have a luxury feel for less and they are easily cleaned as well.
Comfortable and supportive – An indoor bean bag should provide excellent support, especially if it will be used for long periods of sitting. The good news is that a well-made bean bag will contour to the body preventing back and neck strain and improving posture.
Versatility of seating position – When a bean bag is being used for studying, hobbies or gaming it is best to choose a bean bag chair or gaming chair with a sturdy seat and high back that provides sufficient support for the neck. For a more relaxed seating position, such as watching television and films or socialising, a classic bean bag or bean bag lounger would be ideal. Again, a Bazaar Bag Flex that offers a wide range of different seating positions in one bean bag would tick all these boxes.
Durable – Even if a bean bag is staying indoors, it still needs to be durable. It will help to lengthen its lifespan, but it is also especially important if the bean bag will be used by children or on wooden floors.
Easily maintained –Top-ups of beads are widely available and simple to add to bean bags, making it easy to maintain their superior support.
Bean bags represent great value for money, so it's possible to buy multiple bean bags and use some for indoor use and some for outdoor use. However if you're looking to make just one purchase and buy only one bean bag then it is possible to have the best of both worlds. An indoor-outdoor bean bag is comfortable, durable, easily wiped clean, portable and available in a rainbow of colours so that you can choose one to suit your indoor and outdoor spaces alike: it's the perfect solution!
By Andy Atkins
Helen McGonigal is a married mum of three and experienced freelance writer who writes children's fiction and specialist articles on a range of subjects, particularly education, parenting and anything kitchen and home-related – all subjects close to her heart.