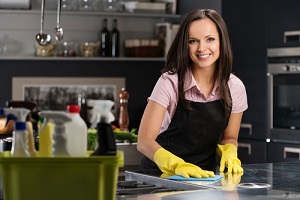 Time is precious commodity these days and many people are deciding they would rather not spend it cleaning their home. Instead, more and more families are hiring cleaning services to take care of these time-consuming tasks and there are many companies and independent cleaners available to prospective customers. But how can you tell which ones will do a good job and can be trusted to enter your home while you are out?
To find the right company to clean your home, make sure to ask them these important questions before you hire anyone:
Is your company insured?
You will want to make sure your cleaning service has adequate liability insurance and not just a bond. This will protect you in the event that something is damaged or broken by the cleaning team without having to make a claim against your own insurance.
Do you carry worker's compensation insurance?
Similar to the above but this one is to protect you in case a cleaner is injured on your property while performing their duties. Requirements will vary depending on your area, be sure to look up local regulations.
Will the people cleaning my home be employees or independent contractors?
It is often preferable to choose companies which can vouch for their employees as there is a higher level of accountability. You may also want to ask about the type of training employees receive, if any, and if the company performs background checks before employment as well as the number of employees that will have access to your home.
Can you provide references?
References are a great way to find a company you can be confident in so don't just ask about them, take a look online as well to make sure they are not trying to hide bad reviews.
Will cleaners follow specific care instructions for sensitive floors?
If you have sensitive floors that require special treatment, bring it up right away and make sure the cleaners are willing to take care of it properly. Don't assume they will know what to do on your marble bathroom floor, speak up and reduce the risk of expensive errors.
How are charges calculated?
Some cleaning services will charge based on an hourly rate while others use flat rates. Both have their pros and cons but flat rate services will prevent nasty surprises when it comes time to pay your bill.
How flexible is the schedule? Are there minimum requirements for frequency of service?
Some services may require customers to commit to a bi-weekly cleaning schedule. If you are only interested in a more sporadic service, ask right away: They may have an on-call list to fill suddenly vacant spots as reduced cost.
What is the company's breakage policy? What is the company's policy regarding theft?
While one would certainly hope that a cleaning company would have strict no-tolerance policies for theft and customer protection policies in place in case of breakage, it is always a good idea to ask and make no assumptions.
Who will be in charge of providing cleaning supplies?
Cleaning supply costs can make a difference when comparing services. It is also important to establish responsibility to avoid having your cleaners unexpectedly run out of something!
Do you have a satisfaction guarantee?
Companies who offer satisfaction guarantees are much more likely to be committed to providing excellent service for you and have probably been in the business longer.
Some other questions you may want to consider asking include:
What happens if I forget my cleaning day?
What should I do about my security system?
What is your policy regarding pets? (if applicable)
You may also wish to request a cleaning checklist from any residential cleaning services you are seriously considering to see exactly what is and is not included in your package. Remember, cleaning staff have access to all of your most prized possessions so make sure you find one that is reliable, trustworthy, and efficient and you will have peace of mind as well as a beautifully clean home!
"We have so many maid services available but it is very hard to find one which is well suited for our needs. Sometimes when you don't really enquire about their methods or policies, it will end up being a headache than a relief. All you have to do is ask few questions and make sure that everything is well and good." – Mayes Marilynn