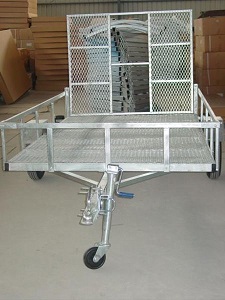 A utility trailer is the workhorse of the trailer world, and the delight of farmers, gardeners, DIYers, lovers of the outdoors, and anyone who simply needs to move items from one location to another. Here are a few tips for buying the perfect utility trailer for you.
1. Vehicle Prep
Vehicle prep before purchasing a trailer is important. Once you're done inspecting, installing a hitch, and otherwise prepping your vehicle for towing a trailer, you may find out that you can only use a specific trailer, or need a completely different hitch type than you first thought.
Make sure you know your vehicle's gross combined weight rating (GCWR) or the maximum towing capacity weight found in your owner's manual. If your intended trailer does not have its own brakes, you'll need a lighter trailer so that your vehicle can still brake effectively with the extra weight.
Install the proper hitch for your vehicle. Hitches are categorized by class and the higher the class, the greater the towing capacity. The hitch you choose should match or exceed your vehicle's towing capacity, so pick the hitch with the highest class available for your vehicle. Make sure you hook up the trailer lights with your vehicle.
2. Warranty
Warranty will differ if you buy new or used, and it's important to know if you have one or not, and what it covers if you do. Buying a trailer new usually includes at least an option for warranty, as do some used trailer dealers, but most independent sellers do not offer warranty. Know exactly what is included with the sale long before making the closing deal.
3. Trailer Inspection
Do a checkup inspection before you purchase the trailer. Look for major cracks, loose rivets, bolts, or screws, and the bottom or floor of the trailer to be sure it will hold the weight of your haul. Check the tires for tread wear, bearings, hubs, and brakes. Keep the hitch in mind as well; it shouldn't have any rust, cracks, or loose welds on the fastener.
If you are buying "as is" (used and with no warranty), know what you will be able to afford for any after-purchase utility trailer repairs. Toronto to Miami, there are great options for cheap parts and service if you know where to look and know how to use those coupons and sales. If extensive repairs need to be made, be sure you can afford them before you buy.
4. Want & Need
Make sure you know exactly what kind of trailer will fit your needs before you buy. Will an open or enclosed trailer work better for what you need? If you'll be carrying heavier loads look into a tandem axle trailer rather than a single axle. Will you need ramps to go with it? If it is an enclosed trailer, is the back door big enough for what you need to go through it? Does the trailer have brakes of its own or will you need to rely on your vehicle's brakes? Can your vehicle only pull a small bumper-pull, or is it capable of pulling a gooseneck?
You may need a trailer you probably don't need a huge one with all the bells and whistles, even though you really want it. If you buy more trailer than you need it will only be more costly and end up being cumbersome later on. Stick with what you need and you'll be much happier with your purchase decision down the road.
5. Rent vs. Buy
Finally, look at the costs involved with purchase and maintenance and decide if buying is really the best option for you. If you will only use the trailer once in a while, do not have the room to store it when not in use, or simply cannot afford the trailer type you need, it might be a better idea to rent.
Buying a trailer can either be a great investment for your future or a drain on your finances, but following these tips will keep you from breaking the bank and help you to make the best decision for your needs.
Chris Miller is a writer, and blogger, and loves DIY projects where he can use his trailer from J & J Trailer. When he isn't fixing odds and ends on his home, he enjoys reading comics and fishing with friends.