Changing your shower curtain is often the fastest, easiest, and cheapest way to update your bathroom décor and with so many options on the market, it is a great canvas for expressing your personal style. Whether you want to create a colorful atmosphere for your children or a serene spa-like space there are a wide variety of styles and themes to complement and match your décor.
Top Trends
Floral: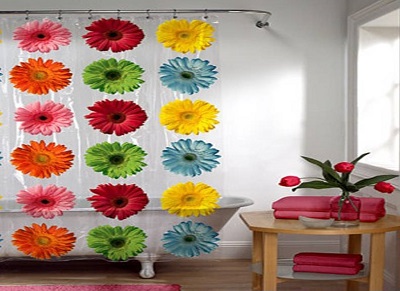 A classic style and still popular for good reason, floral designs can range from realistic to fun and colorful to artsy and feminine and are available in a wide range of colors. Perfect for creating a spa-like space, florals create a soft atmosphere but can be seen as too feminine by some. These fabric flowers are a fun addition to a child's bathroom but don't provide much privacy in the shower.
Nature-themed: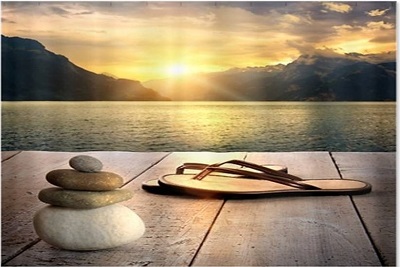 Everything from tree branches to bird silhouettes to forest and beach scenes can be found in a variety of styles ranging from realistic to highly-stylized. Nature inspired curtains are great for complementing a spa-like bathroom atmosphere and creating a serene, relaxing space as well as bringing in elements of the outdoors while providing a flattering balance to a modern or more traditional space. Stylized curtains are well suited to creating more sophisticated space for adults while cartoony or realistic scenes can add a touch of whimsy to your child's bathroom.
Sparkling Accents: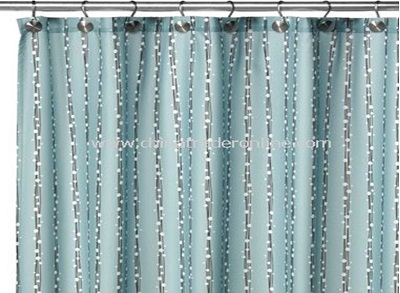 Adding a bit of shine and shimmer is a great way to dress up your master bathroom and add a bit of glamour, transforming it into a luxurious getaway. From super shiny glittery curtains to beaded, sequined, and pearled fabric ones there are many colors and styles available to add varying levels of sparkle. If you add trendy bathroom accessories with it you can transform your bathroom easily in a trendy way.
Vocabulary boosters and learning aids: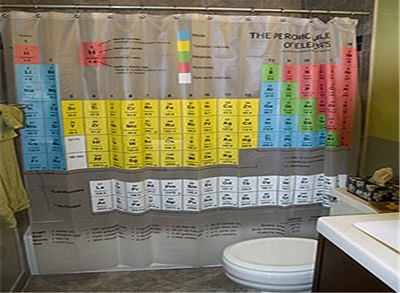 From learning a new language to brushing up your knowledge of the periodic table, shower curtains can be used for a variety of learning purposes. Some have common expressions in a specific language along with an English translation and these can be great for practicing before a big trip or just adding a nice cultural touch to your space. Period table curtains are a great way to interest children in science from a young age and can be a handy study helper into later schooling.
Patchwork: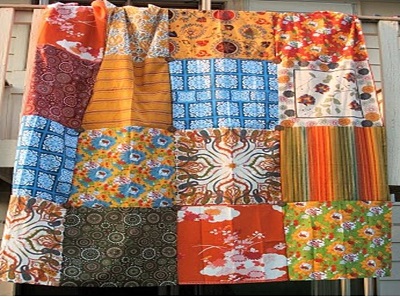 If you prefer to achieve a more rustic look for your cottage or summer home, a patchwork fabric curtain can be a great addition. With styles ranging from modern jewel tones to cozy appliques patchwork curtains can be a great way to introduce a bunch of colors without looking too busy and to create a cozy, homey atmosphere perfect for relaxing in.
Finally, picture holding curtains are a cool way to add a very personalized touch to your bathroom décor. Whether you want to include pictures of the family from your latest vacation or a series of black and white art photos, these curtains are easy to customize and update whenever you like.
Margaret Perron is an appliance repair do-it-yourselfer, home solutions enthusiast and a home maker. With over 10 years experience in the home improvement business she is well suited to advise you on the best solution for identifying and locating the best home services in your area.