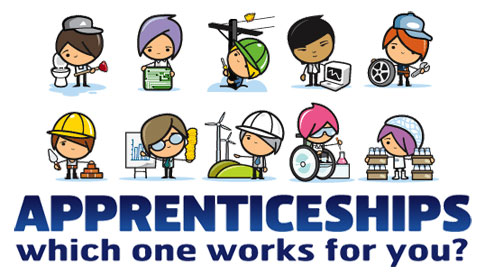 2010 – 2011
2011 saw the numbers of people starting apprenticeships in England rise by more than 50%, with 442,700 apprenticeships in the academic year of 2010-2011. Out of all of these apprenticeships 175,000 were surprisingly aged 25 years and over, and people under 19 were ranked the lowest at 128,300.
Is this because the government wants to see more degree-level apprenticeships? The government went on to set up a £25 million scheme in July to support more than 10,000 advanced level and higher apprenticeships in firms – in particular small business were helped as there was a skill shortage.
2012- 2013
The latest figures from 2012 showed that there were more than 500,000 apprentices in England, this alone is a 14% rise since 2011. It is said that this dramatic increase was the result of the increase in government funding for adult skills apprenticeships. This had a large impact on the growth of adult learning in 2012. The most popular type of adult learning was advanced apprenticeships, which is equivalent to two A-Levels. The ongoing rise in the number of apprenticeships comes as concerns remain about quality due to the government's recent introduction of a one year minimum duration for apprenticeships.
A drive for quantity must not come at the expense of quality. Apprenticeships will only continue to be valued if they are considered to be of a sufficiently high quality as an attractive and viable career route. Being able to define quality has been rather difficult without being too prescriptive or uncompromising.
Nevertheless by matching work placements to a young person's ambitions, current ability level and best suited working environment, we can offer structured roles with clearly defined experience and progression criteria, which in time will begin to form a starting point of quality across the board. Crucially, we need to increase awareness of vocational opportunities and apprenticeships through the education system. Some 81% of young unemployed people surveyed recently said they were not told about apprenticeships – why don't young people know that this an option?
2014 – 2015
Even though we are only in the first few months of 2014 we can already state that the predictions for 2014 will be to see a rise in apprenticeships. The end of 2013 saw the number of people applying for places rise by 43%, and the government stated that more spaces need to be created, especially because the number of female applicants for apprenticeships is on the rise. There are concerns as to whether there are enough jobs.
Apprenticeships are crucial in this day and age. Young people are lacking in real life skills, and apprenticeships give the young an opportunity to learn, whilst also earning, giving more opportunity to people who for whatever reason need to enter the world of work rather than pursue further education.
The largest numbers of vacancies that are available were for business, administration, virtual PA services, and law spaces, with 165,410 applications made during the period for 15,550 apprenticeships. The subdivision with the maximum proportion of submissions to vacancies was education and training, which attracted an average of 27 applications per vacancy, followed closely by arts, media and publishing with 26 applicants per place.
Unfortunately, with each online position enticing an average of 12 applications, the constant need for more and more apprenticeships means that they are outstripping the supply. I would urge more employers to consider how they can take advantage of this available pool of talent and grow their business through apprenticeships.
Bio: Karen is the owner of two young businesses, and has had many apprentices over the years and has learned a lot from setting these up whilst also prioritising spending time with her children, enjoying nothing more on her days off than spending time with her grandchildren and taking her dogs for a walk.  At times using a business call answering service from 1st Response has been the key to managing all the different needs of running the businesses.