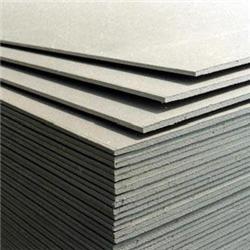 Plasterboard is one of the essential elements that makes up a home. Whilst you may not think much about plasterboard, once you start investigating, there's a whole lot more to it than meets the eye. Picking good quality plasterboard is pretty vital in the long run.
For the adventurous DIY crafters out there, it is beneficial to be able to differentiate between plasterboards and how they can potentially serve your upcoming project. There are many different kinds of plasterboard out there, but for condensing purposes it is best to explore the basics.
To begin, we will be exploring the different types of plasterboard.
There is the standard plasterboard, which you are probably most familiar with up until this point, as it is the most common and ubiquitous plasterboard. If you were to look around whatever room you're reading this in, you'll probably spot some standard plasterboard.
In addition to standard plasterboard exists thermal laminates, duplex plasterboard, baseboard, and impact board – all of which serve very different purposes.
Types of Plasterboard
To break it down further, we will examine the different types of plasterboard along with their advantages and possible disadvantages.
Standard plasterboard is known for its square and tapered edges. It has an easy installation process as there is usually one side of the board that you can directly treat with paint or wallpaper. A standard sheet size is 9.5 mm to 12.5 mm.
Thermal laminates are essential if your space needs insulation. Typically, these types of plasterboards are made from polystyrene or polyurethane foam, and are typically used to line external walls or ceilings. This is because it contains a water resistant layer.
Duplex plasterboard has a layer of foil to resist water and add insulation, but keep in mind that it cannot be fixed with adhesive in the event that it breaks.
Baseboard is the most economical option of all of the plasterboards, but does not include insulation or an ivory face. There are a variety of sizes available.
Impact board is the essential plasterboard for areas with high traffic and heavy wear. It is constructed of fiberglass and other additives. In addition to its strength is also cost. However, it's not very commonly used within domestic settings.
Fire resistant plasterboard is resistant to fire thanks to its multimedia dimensions, including glass fibre. It is a great material to prevent fires, but also one that comes at a cost.
Which Plasterboard to Choose From?
Keep in mind where you will be using the plasterboard and the necessary qualities it will need. It is worth spending more money on better quality plasterboard that has added benefits, such as insulation or water resistance.
In areas where people do not spend a lot of time, these factors are less important.
Regardless, plasterboards are a key component to any interior and will determine the comfort or safety level of the area for years to come. It is best to buy smart now instead of paying for it later.
Choose wisely and best of luck with your DIY endeavors!
Louisa Jenkins is a freelance writer. However, in her spare times she loves nothing more than to get her hands dirty with a spot of DIY. She often writes about the weekends she spends on her latest DIY projects – whether its installing Selco plasterboard in the bathroom, or fitting a new balustrade on the stairs.