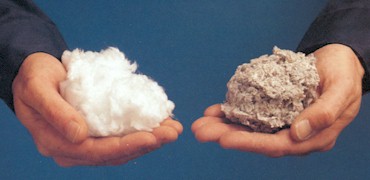 Homebuilders and homeowners have forever relied upon two types of effective and economical insulation: cellulose or fiberglass. But which one is better? According to the Green Building Advisor – an organization dedicated to building greener homes and helping homebuilders to reduce their carbon footprint – cellulose, when densely packed, is considered to be more formidable against air leakages.
While fiberglass remains the most commonly installed insulation type, especially as it relates to installed insulation bats, cellulose offers a number of desirable advantages that should not be overlooked as well. Since both are relatively comparable in cost, it can be helpful to learn about the benefits of that cellulose has to offer if you are considering redoing your insulation or are looking to have a custom home built in the near future.
Cellulose Insulation vs. Fiberglass
Economical: Both fiberglass and cellulose insulation are rather inexpensive. When compared to other popular types such as rock wool or foam board, they are the most economical. Both range in a similar price per bat, with blown in cellulose being in the upper tier of the price range.
Installation: Fiberglass is widely considered to be the simplest insulation to install in any home. The bats come in different ratings and can be unsealed and unwrapped and installed in the cavities of the walls with ease. Cellulose, in regard to blown in cellulose, like that which you would have added to your attic, requires more training and special machinery. Densely packed cellulose for walls requires different installation to fiberglass, and requires a bit more labor, making it costlier to install overall. Since cellulose must be blown in, special machines and training are necessary, thus increasing installation costs.
Air Flow: It is important to note that fiberglass and cellulose both are not defined as having a set "wind barrier." However, recent studies have shown that cellulose is less susceptible to air leakages than fiberglass is. The most effective type of cellulose in this regard is the densely packed version, which has been shown to impede most elements of air flow within the walls.
Flammability: One area that fiberglass will win, in contrast to cellulose, is that it's not flammable. The paper around it surely is, but fiberglass does not burn; it just melts with intense heat. Cellulose is, basically, just paper. Newer versions are coated with special chemicals that make it more flame retardant than previous versions. Still, fiberglass is less flammable than cellulose.
Soundproofing: Some homes require extra soundproofing. Whether that's because adults want to enjoy a more quite household from children, or whether a home theater room requires additional soundproofing. In these instances, densely packed cellulose easily fits the bill because it retains a higher STC rating (sound resistance rating) than fiber glass does.
One has numerous options when considering the insulation type they will use for their home. With a variety of other options that exist aside from cellulose or fiberglass, it's always wise to conduct some research beforehand. By learning more about your options, you can make the best choice on insulation for your new home.
Author Bio: Sarah Parkar is an internet marketer as well as a freelance writer. She is passionate about her work and has experience writing for a broad spectrum of topics. Parker continuously educates herself on the evolving practices of internet marketing, health and home improvement, which is reflected in all her work. Her recent writings include comparison between fiberglass vs. Cellulose Insulation. Follow her on Twitter/Sarah_Parkar.