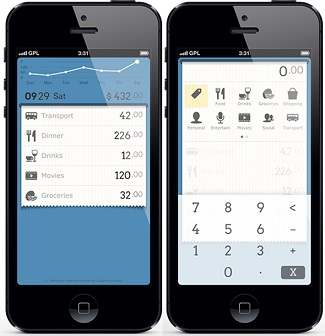 It can be difficult to keep track of all of your expenses and many people fall into the trap of late fees and over drafting. One of the best ways we can stay on top of our finances is by staying more connected to them. In our day and age I think the best way is by money managing apps. We always have our phones on us so instead of checking our social media sites again and again why not be more productive and manage our finances instead.
Here is my list for the best money managing apps:
Daily Cost
If you are serious about budgeting then you should consider investing $1.99 for the Daily Cost app. This app will help you to track your weekly, monthly and yearly expenses. This app also has great graphs that are detailed so that you can get a visual of all of your financial stats.
Tricount
Travelling with friends can be fun, just like going out to eat or any other group activity. It seems every time though the most difficult and painful part can be figuring out who owes what. Tricount will do all the math for you and figure out who owes what. You can even share Tricount's results with everyone via email.
Toshl Finance
Toshl Finance is perfect for those that do a lot of traveling. This app will help you to budget out your finances so that you are able to separate your travel expenses from your other day-to-day expenses. Toshl Finance works with any currency.
Manilla
This is one of the best, free money managing apps that you can get. Manilla is great for organization as it allows you to create separate folders and tabs for all of your expenditures and bills. Manilla will also remind you of bills due to help you avoid over drafting and late fees.
Mint Quickview
Mint Quickview gives a quick overview of your budget. It shows you how much you are spending, when you are spending and where. It does this by monitoring all of your transactions. When you actually see where your money is going it makes it a lot easier to make those conscious choices on how to save.
Check
The hard part about paying bills is remembering when to pay so you don't get charged with a late fee. With the Check app you'll be reminded as to when your bills are due and you can even schedule future payments all from your smartphone.
Venmo
If you share bills like rent with a friend or if you are on a phone plan together with someone then Venmo makes it easy to make sure you pay your friend or family member back. With Venmo you can link your bank account so that you can transfer money back and forth whether you are making or receiving payments.
Pageonce Money and Bills
Imagine having all of your bills, accounts, debts and rewards programs all connected together in one system for easy management. With Pageonce you can connect all these things so that you can better manage all of your finances in the palm of your hand. Pageonce is user friendly, free and available for most smartphones.
Henry Hernandez is a veteran and entrepreneur from Texas. Henry consults with a financial company that sells checks online for business and personal use http://www.cheapchecksplus.com/. Henry is on Google+.