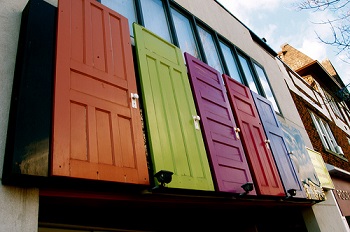 Spring is a time of rebirth in the natural landscape. So it makes sense that it is also a time when you become restless about freshening up the look of your home.
Color provides a relatively inexpensive transformation. In particular, changing the color of a front door can make a home stand out, because entryways are the focus point of front facades.
Waking Up Front Facades This Spring
Entry doors can be a bit too proper, too quiet and… ho hum. So if the street view of your home makes you yawn, then a compelling touch of spring color added to your front door can wake up curb appeal.
Home improvement contractors often spruce up doors with attractive colors. In the past decade, forest green, red, yellow and shiny black have been among the popular colors. They are standby, distinctive choices. But we're talking about looking for an "it" color — something that is current and can shake up what architects refer to as your homes "facade-itecture." Enter the Pantone Corporation.
Pantone produces inks and publishes an extensive color-matching system used by many design-related industries, including ones focused on home decoration.
Each autumn, Pantone predicts designer colors that it thinks will be popular choices in the coming year. Then industry leaders vote to determine which one they think will dominate. In early December, the corporation announced that the 2014 winner is shade number 18-3224 — better known as "Radiant Orchid," which is a pinkish purple.
Catching Eyes with Orchid and Other Surprising Colors
Although painting exterior walls in a surprising color can make a home look garish, limiting the color to your front door can create a pleasantly eye-catching facade. Combine Radiant Orchid with white walls or an overall light-colored facade, and you have a sort of raspberries-and-cream effect.
As the designers at the Styled Sealed Delivered blog note, a Radiant Orchid door gives visitors a "bright welcome" and "pops off" a light background.
But not all entry doors are ripe for berry even if it is au courant . So let's take a look at Pantone's complete spring list, which includes:
Placid Blue (15-3920) — a powder blue
Dazzling Blue (18-3949) — part way between royal and navy blue
Violet Tulip (6-3823) — a deep lavender
Hemlock (15-6114) — a minty green
Paloma (16-0000) — a deep, foggy gray
Sand (15-1225) — a creamy shade of coffee
Freesia (14-0852) — a deep floral gold
Cayenne (18-1651) — a spicy tomato red and
Celosia Orange (17-1360) — a creamy shade of persimmon.
Selecting Door Color Carefully
When advising our customers about the best colors for entry doors, consider overall exterior color first. This can ward off combinations that might be over the top for your neighborhood. For example, adding a Radiant Orchid door to a pink stucco exterior could result in a home just right for the children's picture book character Pinkalicious, but all wrong for you.
On the other hand, if the finish is gray brick with a hint of pink and you have a dark roof, an orchid-colored door may brighten the facade and make it more welcoming. Or if you have a pink stucco exterior and a light-colored roof, the soothing gray of Pantone Paloma may be just the touch to give your home a distinguished look.
Mark Watson takes a client-centered approach to operating Exterior Medics. His passion is providing homeowners with top-notch customer service, quality products, and superior remodeling experience. You can read more of Mark's home improvement advice at http://www.exteriormedics.com/blog