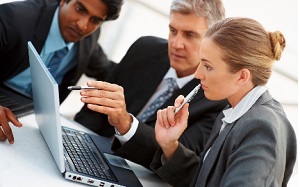 The workplace has evolved. In fact, technology, generational shifts, and other factors have redefined the term "workplace" in ways that just a few short years ago could not have been imagined. Clearly, many entering the workforce for the first time today are in for a different experience than those who started their careers just a decade ago.
What follows is a look at what new hires should expect to see when they enter the workplace in 2014.
Higher health insurance costs –
Although it's too early to gauge the full impact of Obamacare on new hires, industry experts predict higher premiums, deductibles and co-pays. Of course these factors all depend on such factors as the number of employees a company has on the payroll and whether a worker is full-time or part-time.
On the upside, many employers are looking to ramp up voluntary wellness programs, rewarding employees who keep such things as their weight, blood pressure and cholesterol down with lower premiums, deductibles and office co-pays.
Multi-generational workplace –
Today's new hires are primarily Millennials or Gen Y. As new employees, Millennials will typically have Gen Y managers, who in-turn are overseen by Baby Boomer Executives. In this multi-generational workforce, the challenge for new hires will be to successfully establish and manage relationships with people who've been raised during different time periods—people who not only have different views and expectations of the workplace, but have different ways of communicating as well.
Whether it's communicating face-to-face or via emails, texting and teleconferencing, new hires must respect and adapt to whatever forms of communication the multi-generational workplace they find themselves in calls for.
Workplace flexibility –
Thanks to the large number of younger workers already in the workforce—namely Millennials who want no part of the 9 to 5 grind that their parents called "work"—new hires can expect more flexibility in the workplace. This means flexible hours, compressed schedules, and even the possibility of part-time telecommuting.
While not all companies offer flexible scheduling, the smart ones have come to realize that flexibility in the workplace means better work/life balance, which means greater job satisfaction and employee retention. Not to mention a healthier bottom line.
"Cloud" and BYOD –
Due to the explosion of mobile devices such as smartphones and tablets—especially with regard to the Millennials who will soon constitute half of all new hires—many companies have adopted "cloud" services and Bring Your Own Device (BYOD) policies.
Instead of being assigned to a company computer, new hires can expect to use their own personal mobile devices in the workplace. Not only does BYOD help to facilitate flexibility by allowing employees to work at anytime and from anywhere, adopting the cloud ensures better collaboration across all platforms of the enterprise.
Better training and growth opportunities –
Competition among companies to acquire and retain quality new employees has never been greater. In addition, today's new hires are willing to work hard, but by the same token, they expect to advance quickly.
As a result, today's workplace has become more focused on challenging high achieving employees to keep them engaged, along with providing the training and performance support they need to keep them progressing. New hires should expect open communication with management in helping them to outline a career path and to set and achieve the goals they will need to accomplish their career objectives.
Changes in the workforce have brought changes to the workplace. The good news for those entering today's workforce is that, if they are willing to apply themselves, most of these changes will work to their advantage in helping them to secure the futures they desire.
Robert Cordray is a former business consultant and entrepreneur with over 20 years of experience and a wide variety of knowledge in multiple areas of the industry. He currently resides in the Southern California area and spends his time helping consumers and business owners alike try to be successful. When he's not reading or writing, he's most likely with his beautiful wife and three children.