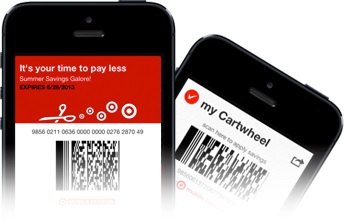 A few decades ago, extreme couponers were armed with little more than a Sunday paper and perhaps some direct mail flyers. These days, the game has changed dramatically. Thanks to a slew of new mobile coupon apps, consumers have more options than ever when it comes to saving cash. While that might mean a lot of extra work for cashiers, it also means large savings over time for buyers.
"Mobile coupon apps are some of the most popular applications in the market," said technology entrepreneur. "With the economy still lagging somewhat, these applications have great practical utility for millions of people. They're also good for retailers, as they drive foot traffic."
Here's a look at some of the best mobile coupon apps for Android:
Cartwheel
For fans of big-box retailer Target, there are few better options than their Cartwheel app. Discounts are typically in the five-to-15 percent range, but can rise as high as 50 percent on certain items. The app also has a social component, allowing users to share great deals with their friends. The app is well designed and easy-to-use, which means faster checkout times.
The Coupons App
Unlike the Target-only Cartwheel, The Coupons App can be used in a massive variety of places, including retailers, restaurants and fuel pumps. The app provides fresh offers in real time, allowing users to seize upon great deals before they're gone. Another nice feature is the gas price notification, which directs you to the cheapest gas pump nearby. The app also integrates social functions, text message deals and a barcode scanner that is invaluable when it comes to comparison-shopping. These comprehensive features mean that The Coupons App offers the functionality of several different apps in one — making it one of the go-to choices for any serious coupon user.
Shopkick
Shopkick's system turns shopping into something of a game. Users are awarded points (also known as kicks) for checking in to stores. Additional points are rewarded for buying or scanning items. This positive reinforcement makes the app both addictive and rewarding. Users can also access special offers from participating retailers like Old Navy, Macy's, Best Buy and Crate & Barrel. With six million users, Shopkick is one of mobile's most successful shopping platforms.
Yowza!
Couponers who have an itch to immediately find a great deal can fire up the Yowza! app and it will instantaneously begin searching for bargains. These bargains are grouped according to geographical area, which means the user can find good deals that may be right around the corner. Once a deal has been found, a Yowza! barcode can be scanned by the cashier in one quick motion — a process that saves vastly more time over traditional paper coupons. Yowza! offers exclusive deals with a variety of merchants, allows for sharing via Facebook and Twitter and allows user to keep a running tally of how much they've saved over time.
SnipSnap
SnipSnap allows users to snap a photo of any traditional paper coupon, and then converts all of the relevant information into a digital version that can be redeemed just like the original text. The app also lets users check and see what coupons friends and family members have snapped. The app will also send out reminders when a snapped coupon is about to expire. There is one drawback — some retailers won't accept digital versions. But for those who do, SnipSnap is a great way to reduce clutter, ensure you don't lose any paper coupons and take advantage of some excellent offers.
CardStar
These days, it seems like every shop, restaurant or retailer has a rewards program. Some of these loyalty programs offer pretty substantial rewards, but who wants to carry dozens of different cards and key chains? CardStar solves that problem by allowing users to import all their rewards program information online via camera. The app also allows users to take advantage of special deals and offers available to CardStar users. As a bonus, users can also import other types of cards, such as association memberships.
About Author: Amy Taylor is a technology and business writer. Amy began her career as a small business owner in Phoenix, Arizona. She has taken that knowledge and experience and brought that to her unique writing capabilities. She really enjoys new business related issues that are tied directly to technology.