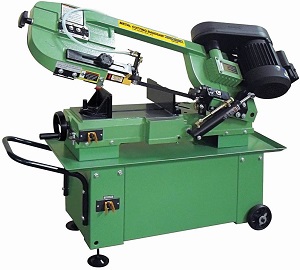 If you are a woodworker or a hobbyist carpenter, you probably know what a table saw is. Think of a mobile table saw and what you have is a band saw. Band saws are an essential tool for construction sites and hobbyists since they are perfect for cutting curves and re-sawing thicker boards into thinner planks. They are also ideal for straight ripping and joinery, which makes the saw very important.
What to Look for When Purchasing
When you decide to purchase a band saw for your repertoire of tools, you need to consider a few factors. First and most importantly, you need to know what you need to use it for and how often you will use it. This will determine what type of ripping and re-sawing capacity you need to look for, as well as the power of the saw's motor. If you need it for fine cutting and shaping, you will need to identify the maximum and minimum widths of the blades that you can use as well as whether the blade guide system will suit your needs.
Band saws come in a wide range of sizes ranging from small $100 tabletop models to industrial models that can cost several thousand dollars. Many band saws have wheels above and below the saw on which you can mount a flexible blade. This also includes a guidance system and a spring tensioner. The spring tensioner works to keep the blade from twisting or breaking under the load. It is important to check the wheel size because this will determine the maximum width of your cuts.
Other things to consider when you purchase your band saw include the vertical distance between the table and upper guide (this determines the maximum width of planks you can cut), cost, weight, if you use it at home, and how easy it is to change blades. There are three main types of band saws, which will be discussed below.
Manual Band Saws
These manual band saw models have a manual start button and a system to automatically return the cutting head to the rest position when you stop the cutting process. They are fitted with adjustable hydraulic brakes, which greatly extend the band life and provide a higher quality cut.
These saws also have vices for clamping as well as a head hinge pin, which allows for axial play. Some manual saws also have a swarf collection vat, lockable switch, and multiple speeds.
Semi Automatic
The semi-automatic band saws are designed to make single cuts without an operator. They have a large circular base on a rotating ball track. Adjustable mechanical stops and rotation allow for extremely precise cuts. These machines are often available with a two-speed system or a variable drive unit if you prefer. Their integrated rapid band tension device provides constant 600-kilogram tension.
By simply adjusting the pneumatic or hydraulic head movement unit, you can adjust the speed and position of the saw. Semi automatic band saws come with a built-in control panel with a keypad and digital display, which make them ideal for precision cuts and minimizing your interaction with the blade.
Fully Automatic
If you want a top of the line, high-quality band saw that can satisfy your precision needs, a fully automatic saw is the choice for you. They have a built in feeder that can cut single planks and even bundles until the material is done, all without an operator.
Their high-tech system has options to control the descent speed, control of the head's position using a linear potentiometer, blade speed, blade direction, and much more. Their proximity switches also monitor the machine for any problems and alert you immediately, which helps to ensure their longevity and quality.
The visual control panels on these band saws offer ease of use and diagnostics information. In addition to all these features, the fully automatic band saws come with many different accessories including automatic expulsion of cutting swarf, vertical anti-burr vice, and loading/unloading tracking.
Conclusion
Whether you are a hobbyist, a carpenter, or a serious contractor, a band saw may need to make it to the top of your "to-buy" list. With a wide range of sizes and capacities, as well as unparalleled versatility, band saws are the perfect tool to get any cutting job done. You should purchase your band saw from a reputable dealer with years of experience in the field.
Written by Albert Solano of Pedrazzoli USA. Albert helps answer the market's requirements for innovative products with a high-technological content.