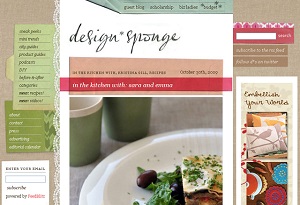 When it comes to interior design, the Internet can seem an unheeded garden gone to seed: everywhere you turn there's a blog ready to bludgeon you with ideas about your space. For every dusty jewel you find growing in some unassuming corner of the web, three weeds have sprouted up to distract the unwary wayfarer.
For the uninitiated web surfer, the abundance of information out there can be more overwhelming than helpful; finding blogs that really resonate with your taste and style becomes a chore in itself, distracting you from the fun work of designing.
The following five blogs represent some of the best the web has to offer, with a little something to suit virtually any style.
1. Design Sponge: Grace Bonney's polished, well-organised blog offers plenty of useful tips for design enthusiasts. The site allows you to easily search according to region, room size, room type and style, so you're not left sifting through a bunch of irrelevant posts. The site also covers a broad array of topics and tastes, so it's useful for everyone. Best of all, the writing style for the articles matches the design style: effortlessly chic but practical. Bonney has been involved with a number of design mainstays, from HGTV to Martha Stewart, and the professional touch really makes this a worthy blog to follow.
2. Decor8: Another well-established, wide ranging blog, Decor8 features creative designs from independent artists and designers. The posts here are characterised by the beautiful, exhaustive photos accompanying them that leave no aspect of a room unexplored. The site design of Decor8 isn't quite on par with Design Sponge–it lacks a really efficient categorisation system to help you find posts that suit your needs. But if you sift through the posts here, there's a lot of really top-notch material on offer.
3. The Inspired Room: While the prior two blogs are decidedly professional in tone and focus, the inspired room offers more down-to-earth suggestions for designing beautiful spaces. The DIY section, in particular, has a number of fantastic and approachable projects for the enterprising amateur.
4. Inhabitat: Moving from the general to the slightly more niche blogs, Inhabitat sets out to explore green, energy efficient design. The site showcases emerging technologies that help make houses more sustainable. Even if you're not willing to go green all the way, this blog is worth checking out–the designs on offer here are not only functional, but very often quite stunning, since their mission takes them beyond the expected.
5. Ikea Hackers: In the category of unassailably cool, the Ikea Hackers take ordinary, ho-hum pieces of furniture from Ikea and give them drastic makeovers. Most of us have a love-hate relationship with Ikea: the store offers fairly good quality, somewhat design conscious furniture for reasonable prices, but their Scandinavian modern feel sometimes just doesn't jive with other styles. The Ikea Hackers offer ways to translate such pieces into any style.
There are so many great sites out there that can help inspire you for your next home makeover, and these represent only a few of them. Don't get bogged down in the planning process: find a few great ideas, and get running with them!
Melanie is thinking of renovating her kitchen and recommends Cliq Studios Design to help create something perfect for individual tastes and requirements.