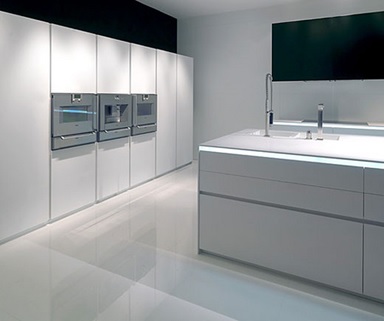 It's a new year, which means new trends, more innovative ideas and making changes. Some of you might be making changes in your homes by giving them a new look and fresh feel, starting with the kitchen.
Knowing where to start can be difficult, but these minimalist kitchen trends for 2014 should be able to help. Minimalist kitchen designs are sleek, simple and modern, creating a picturesque kitchen that will be the envy of all your friends.
Subtle Colour Palette
A significant element of minimalist kitchen design is a basic colour scheme. Scandinavian inspired monochrome (black and white) is most common, as these two colours are the personification of minimalism.
However, white or cream alongside darker wooden surfaces also works perfectly, giving your kitchen a warmer feel. The addition of your kitchen appliances in either stainless steel or black – depending on your chosen colour scheme – will be the finishing touch to bring your colour palette together.
If you want to give your kitchen a more quirky appearance or personal touch, then consider adding a pop of colour. Soft pastels, rich dark shades or acid brights will add warmth, personality and a sense of fun to what could be a cold room.
Increased Illumination
Your kitchen will be a brighter and happier place to be in with the added use of light. Imagine the beautiful picture that your kitchen will be with the light shining off the steel and white interiors.
Adding more windows or a wide window feature, which will not only illuminate your kitchen but will also give it the more airy appearance that is key to minimalist kitchen design. Having more windows will also make it easier to release steam when cooking, which will prevent your whole house from smelling of tonight's dinner.
Energy saving LED lights will reflect off the surfaces, creating a shining starlight effect that the children will love. Drop lights with changeable shades can change the mood of the room, which would be perfect during a cocktail party or romantic dinner.
Less Is More
Minimalist design means that your kitchen has to look as clean cut and crisp as possible, so you will need to de-clutter the space and only keep the utensils that are absolutely necessary. The fun then begins as you decide on your preferred method of storage, but use sleek units, simple worktops and clean lines as your starting point.
If a lot of cooking is done in your home then you should consider open shelving, like the ones used in restaurant kitchens. However, if less cooking is done, a pull-out rack would be ideal for keeping your utensils hidden and dust free. You can also buy cabinet doors that blend into the walls and worktops for a cool slick look.
Intelligent and smaller kitchen appliances are built into worktops, cabinets and islands, which not only increases the minimalist feel but also increases practicality. Induction hobs integrated into worktops is a major trend as they have less buttons and edgings, creating a smoother worktop. Coffee makers with sensors can personalise your drink, and practically flat ceiling extractors take up less space in the overall layout.
As you carry out your minimalist transformation process, think about adding some unique finishes and unconventional decorating ideas to give a personal touch to your contemporary kitchen. It will give it a much more "homey" feel.
We hope we've planted some seeds of inspiration in your mind, and that you have a great time crafting your very own minimalist kitchen. Which minimalist trends do you think you'll be using during 2014?
Shaniqua is a freelance writer and lifestyle blogger from London, who loves design and keeping up to date with current trends.  She recommends KDCUK.