5 Ways To Upgrade Your Outdoor Deck
If you already have a deck behind your house then you are well aware of how awesome of an addition to your home it is. If you don't have a deck yet and are planning on building one in the future it will be good to go over some ideas on how to get the most out of your deck. There are many different ways that you can upgrade your back porch. In this article I will be going over five simple ways to achieve this goal.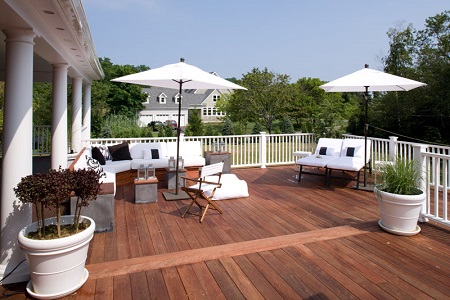 Fans and Lighting
Adding fans to your deck can make it that much cooler of a place to chill. Literally. When installing fans to your deck look to purchase some that also have adequate lighting attached to the fans. This way you can kill two birds with one stone. Many people don't go out on their deck at night or when it is too hot out so adding lights and something to cool you down should do the trick of getting you some more time on it.
Stain
If your deck has some wear and tear on it already and you have had it for a while then you will first need to clean up your deck and make any repairs that it looks like it could use. If you're starting from scratch and building a new deck then you can skip right to staining your deck. Staining your deck will brighten it up and also make an older deck look brand new while protecting it from all the elements of mother nature.
Add Furniture
Adding furniture in my opinion is the most important thing you can add to your deck. If you get a couple couches and a table similar to what you have indoors you will start to find yourself outside more. If you have a covered porch also consider purchasing a TV too if you want to grill out and watch sporting events outside with friends.
Sound System
Consider setting up a stereo and wiring the whole outside of your deck with speakers. Music is an excellent thing to have for entertaining people at your home. If your going to be having a dinner party or having some drinks outside then music always adds to the fun. Whether its just a little boom box or a big stereo, any type of music will help lighten the mood.
Hot Tub
If you really want to make your porch a relaxing spot then think about adding a hot tub. Hot tubs are not only relaxing but they actually can soothe back pain as well. There is nothing like getting home from a long day, going outside to your back porch, getting in a hot tub and winding down.
The options are really endless. Once you have built your deck and have the foundation you can start adding little by little from there. Not everyone can afford to go spend a bunch of money to deck their porch out at once but if you add little by little you will start to see the difference fast. Make your deck as comfortable as possible and you will definitely find about how enjoyable life outside can be.
This article was written by Colin Quinn. Colin has been working for a home improvement company for the past 5 years doing work on homes, roofs and outdoor decor.  He has been using his expertise in this industry to help create content for Supreme Electric.