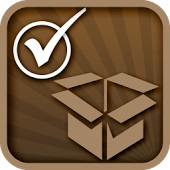 Moving home requires a huge amount of planning and consideration to ensure everything goes as smoothly as possible before the day, and on the day. The rise and popularity of apps has enabled us to tap into a wealth of helpful information and planning tools for use on our mobile devices – with savvy home movers making the most of some great apps available to assist in the process.
Here are six top apps worth downloading if you're on the move.
Moving Planner
This handy little Android app comes highly regarded by users and makes for a comprehensive tool to assist in getting your house move organised. It comes complete with extensive checklists and moving lists, so there won't be anything you'll ever forget to include or get done. You can check items off as you go along and see what needs to be done and by when, as the moving date approaches. You can share the lists with friends and get sent reminders so you're on track for a hassle free move.
Home Move Pro
Moving house doesn't need to be a headache, so if you've got an iphone or ipad, then this app will ensure your house move is as stress free as possible. Easy to use, the app allows you to make written and audio notes of all aspects relating to your move, as well as browse through checklists, plan what needs to be done and save any relevant photos. You can store contact details, make notes relating to your packing and build comprehensive to-do lists.
MoveMatch
Available for Android and iOS systems, this powerful app aims to make your move go as efficiently as possible. The app comes packed with tons of useful features, and is particularly handy for managing removal and storage. It allows you to easily calculate volumes and weights of your items so you can save costs on removal and storage and get the best quotes.
Moving Day
Ideal for your iphone, the Moving Day app has everything you need to manage your moving process. As well as the usual checklist items, you can catalogue items as you pack them, make your own labels and bar codes and print them for your packaged items, as well as keep tabs on the moving process by requesting reports. It's the perfect app for domestic moves and office moves.
MoveMe
This app developed by Moveme.com has got everything covered that you'll need for your house move. As well as allowing you to get quotes for moving, you can compare utility company costs so you get the best deal once you've moved in, as well as all the ubiquitous checklists and information about what appliances, furniture, etc you might need for your new home.
Moving Van
If the thought of packing items into boxes sends you into a frenzy, then this app is a real must-have for anybody embarking on moving house. The app allows you to identify the contents of the boxes that you pack, so you can easily locate items once you've moved. You can assign boxes with a name and number to help ensure loading and unpacking goes smoothly. It's also a handy little app to have if you're planning on putting items into storage, so you can keep a check on items you've got off yo
Alex is an expert in storage and removals who loves sharing his advice on the Bingham Self Storage blog.