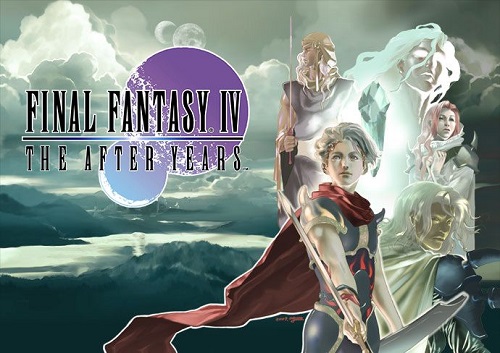 1.    Final Fantasy Iv: The After Years
Another Successful JRPG Port On Android
Square Enix has been gradually porting over the popular Final Fantasy series to Android devices with great success. FF IV: The After Years follows on closely from the original FF IV, offering users some classic RPG moments with a great bit of storytelling. Where The After Years stands out from the rest is that there are multiple storylines for players to get to grips with. The story changes so much that it might be a little daunting for people new to FF, but seasoned players will love the changes. As you'd expect from any FF game, you'll easily plough many hours into it and the 3D redesign of the game is fantastic.
Price £10.99/$15.99
Designed for Phone and tablet
Requires Android 2.3
2.    Ridiculous Fishing
As Extreme As Fishing Could Get
It's important to cast away preconceived ideas of fishing games before playing Ridiculous Fishing, because as its name suggests, it's all a bit over the top. Instead of casting with your standard rods, Ridiculous Fishing sees you fishing with chainsaws, toasters and other random items that you acquire.
Although in essence, you still need to catch fish to progress, the main objective is to avoid many of the smaller fish and navigate your bait to the ocean floor where the bigger fish await you. It's a simple enough concept, but the numerous stages you come across are varied enough to keep it interesting. Latter levels also become frustrating and there's little room for error if you're trying to get the big scores. If you mix together a fishing game with some slapstick humour, Ridiculous Fishing is what you'd end up with.
Price £1.99/$2.99
Designed for Phone and tablet
Requires Android 2.3
3.    Sonic Dash
Classic Sonic With A Modern Twist
We've seen numerous Sonic ports appear on the Play store over the past couple of years, with the results producing some stellar titles. Instead of the classic Sonic action many of us are accustomed to, Dash is instead an endless runner game, very much in the same vein as the likes of Temple Run. Each level you play sees you collect stars and coins which can be used for power-ups to help you get past tricky parts in certain levels. Due to the speed of the game, chances are you'll be needing to use different power-ups fairly often, and without the necessary stars you'll need to buy in-app purchases.
Where Sonic Dash does play homage to previous installments of the franchise is with its epic boss battles at the end of each level, but it still isn't the quality Sonic game we've become accustomed too.
Price Free
Designed for Tablet
Requires Android 2.3.2
4.    Football Manager
Any football fanatic will immediately love FMH 2014. The new version has a redesigned training and tactical interference for you to explore and tinker with.
Price: £6.99/$9.99
5.    Train The Brain: Memory
The daily challenges in Train the Brain will help improve your memory. For those wanting to put their brain through its paces, this is a great download to have.
Price: £0.69/$0.99
Read more on Android Apps at TheAndroidTips.com blog.