Some mistakes in life are easy to correct – if you buy trousers a size too small, you can take them back and receive a refund. However, if you pay an employee a pay packet that is too small, correcting that error isn't quite as simple. John Lewis reportedly spent £40 million correcting an underestimation of holiday wages in 2013, so even big businesses can make payroll mistakes, with big consequences. But did you know that payroll errors can not only cost you money, they can cost you the trust of your employees, and could potentially result in legal action against you?
Operating a payroll system is anything but easy, and mistakes can emerge from the simplest of human errors. Persons performing payroll duties should also have an awareness of employment law and tax law, because without this knowledge your business could end up in court. To give you an idea of why running payroll correctly is so important, here are 4 ways that payroll errors could potentially cost your business.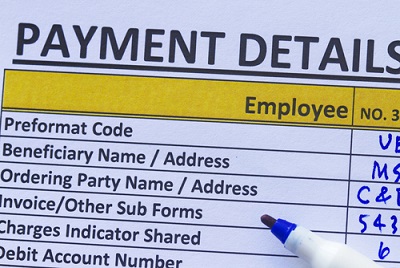 Recouping Overpayment can Result in Legal Action –
Overpaying staff is one of the most common payroll mistakes, and it's obvious why this costs your business – you've paid people for work they haven't done. So you just take it out of their next pay check, right? You could, but if you do this without notifying the employee of your mistake, this could entitle them to resign on the basis of a breach of the employment term of trust and confidence. Not only this, they could later claim 'constructive dismissal' in an employment tribunal, resulting in them being legally able to claim against you for compensation.
Misclassifying Employment Terms can Make You a Tax Criminal –
What's the difference between a contractor and an employee? A lot, actually. Contractors and self-employed people pay their own tax and national insurance contributions, without going through your payroll system as employees. This can make contractors and self-employed people seem like attractive prospects for your business as the admin and HR costs associated with hiring them are lower.
However, if you treat contractors like your own staff – for example by giving them regular hours, stopping them working for other clients or providing their equipment – they become your employees in the eyes of the law. This means that you owe their national insurance contributions to the taxman, and you could be liable for tax fraud by misclassifying them.
Poor Record-keeping can Result in a £3,000 fine –
Even if you've classified your employees correctly and paid them the right amount all year, if you do not keep adequate records for your payroll you can be fined £3,000 from HMRC. Missing your deadlines for tax submission can also carry hefty fines, so if your payroll information is late, or incorrect, it could cost your business substantial amounts.
Correcting Errors Costs Your Business –
Correcting payroll errors can be a long and laborious process, and whether you pay someone else to do this for you or do it yourself, it's a waste of time and productivity. Prevention is always better than cure, and the easiest way to prevent payroll errors is simply to employ someone who knows what they're doing.
Using a managed payroll service or a payroll bureau to manage your salaries can prevent costly mistakes, and employees will feel valued knowing that their wages will be paid correctly, on time, every time. So save yourself some headaches, and find about a managed payroll service that will deliver the service that you and your employees deserve.
By Chris Mayhew
Chris Mayhew has a wide range of business knowledge and knows how important it is to be accurate with payroll information. He would recommend Trace Payroll to any business looking to outsource this complex department.