Commonly, social networking sites like Facebook, Twitter or Pinterest are the ones who implement different sorts of e-commerce features, as they reckons the huge potential these things carry. Not very often it works the other way around, when e-commerce sites implement social features.
But sometimes it does happen. And when it involves the online retail monster Amazon, you can bet it would be something magnetizing.
As part of its Amazon Marketing Services branch, the giant web retail company is now bestowing businesses the opportunity to build their own presence within the website itself. It enables brands to start engaging with customers through Amazon Pages, which besides a fancy appealing look also includes messaging features for direct communication with customers.
When a brand register to the service, Amazon offers three patterns for the Page design:
All Products- The Page contains solely products.
Posts Only- The Page contains solely messaging tools.
Posts with Merchandising- The Page contains a mix of products and messaging tools.
No matter which pattern you choose, a big banner image called "Hero Widget" appears at the top of the Page, similarly to Facebook's Timeline cover photo or Twitter's header photo. Additionally, the brand can add Facebook Like or Twitter Follow buttons to the page that will be located above the Hero Widget. Here's an example of an All Products pattern: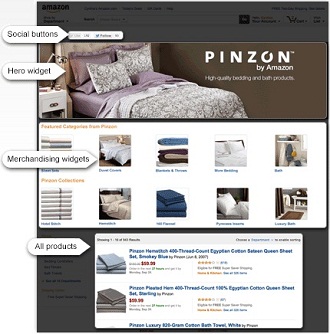 The feature that really interesting is Amazon Posts which grant brands a direct communication line to customers, if the brand choose the Posts Only or the Posts with Merchandising patterns. Pretty much identical to other social networking sites, brands can post status updates to convey their messages.
Through Posts, brands can announce on special sales or offers while the message can be posted on Facebook at the same time as well. The messaging tool also enables to schedule posts that will be published later on a predetermined date and hour. It also supports images, so the message would also be more visual.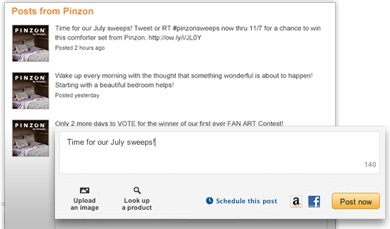 Amazon has also taken the extra vital mile to assist brands understand how users are engaging with the Page. By using Amazon Analytics, Page admins can analyze how effective their marketing efforts are and optimize accordingly through metrics like Page impressions, considerations and purchases.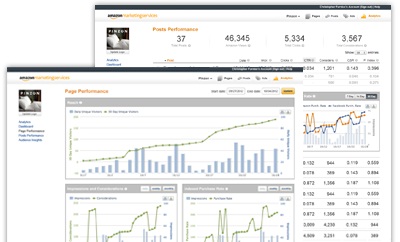 The launch timing of all those social features isn't coincidental. Amazon wants to offer brands the best tools as possible now so they would prepare properly for the imminent busy holiday season and expectantly would enjoy a lucrative shopping period.
For more detailed information about the new social tools and features you can read the following User Guide PDF.