"Those who can do, those who can't Tweet," someone wise once twitted as he Tweeted it to Twitter. But Twitter loves those ones who allegedly can't, the company knows they are the driving force behind the social networking bird lofty aviation. And it constantly pampers them with new improvements.
In a recent air strike of tweaks, Twitter has rolled some new features into its desktop and mobile platforms. Let's take a brief tour to the latest additions in TwitterLand.
Visualizing Search
Back in July, Twitter drastically elevated its search capabilities. Now, the company presents another round of augmentations to its inner search engine. Unlike the prior round however, these current changes are mainly focused at putting the spotlight moreover on the visual aspect of the results.
Until now, whenever a user had been searching for something, image and video results were featured on the side on desktop and nowhere on mobile devices. With this upgrade, photos/videos status has been bumped and they will appear as a gallery right at the top of the search results (both on desktop and mobile).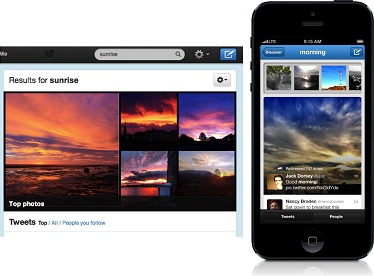 Twitter also informs that it will now explain better why it surfaced a specific result to the top, particularly for a certain user (retweeted or favorited by the user's connections).
Enhancements for iPhone and Android Mobile Apps
In addition to the boost of visual search results to the top of mobile devices screen, Twitter released a couple of other updates to its iPhone and Android mobile apps. The first is the ability to preview the Tweet's summary and photo instantly without the need to tap it once again, with an attractive new design.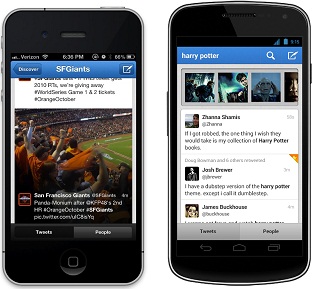 The second update is for the mobile apps' Discover tab which has also gained some nice upgrades with the new visually expanded Tweet design and the implementation of Twitter Cards.
Sharing via Email
The last addition is a new feature on Twitter's website that extends the platform sharing capacities to other people's email (regardless if they are Twitter users or not). By clicking on the "More" button inside the Tweet and then "Email Tweet" a small box will pop where the user can choose the email address to share the Tweet with and add a comment.