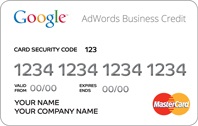 Hey small business owners, Google wants you wielding credit cards for your day-to-day squander! For advertising. Through AdWords. With your own flamboyant Googly credit card. Which can only work with your AdWords account. For advertising. You can boast of your exclusive tech kinship to your friends… and then buy some AdWords advertising.
Google, the once search engine company and now everything-from-everything company, has announced on a new financing program for small and mid-sized businesses in which they'll receive "AdWords Business Card" for their advertising purposes on the ad platform, starting in the U.K. first and expanding to the U.S. throughout October.
The card suppose to grant, and encourage, business owners an ease elastic payment method for their AdWords spending, with relatively comfortable interest rates- variable 11.9% annual percentage rate (APR) in the U.K. and 8.99% to 18.99% APR when it will be available in the U.S. Google had teamed up with the U.K. Barclays and the U.S. Comenity Capital to issue the company's card (MasterCard).
The usage of the card in AdWords is exactly like using any other credit card- simply type its numbers as the primary/backup form of payment. However, it can't be used outside of the AdWords platform as it will be declined at other venues (and you'll probably be mocked a bit). The credit limit will round from $200 to $10,000, depends on the holder's state.
Although it seems that Google preparing for a full scale launch later on this year, currently business owners still needs an invite from Google and then wait for approval. If you are a U.K. business owner and you did received an invitation, you can apply for the AdWords Business Credit by filling the form on this Barclaycard's page.
It isn't the first experience of Google with its own designated credit card- the company mentions that it already tested this sort of program in the U.S. with over 1,400 businesses in the past. Google states that 74% of the testers began using the cards as their primary payment form, but why wouldn't they? If they had received credit card with comfortable conditions from Google why not using it? And why the rest of them (the other 26%) don't uses it, this is what I'd like to know.
Still, if you're a loyal consistent AdWords spender, this card may have its advantages for you. For advertising. Through AdWords.