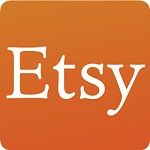 Etsy is a pretty awesomely unique online marketplace which grants the possibility of peddling handmade merchandise. It allows many gifted craftsmen to monetize their talent in the modern world by connecting their products to shoppers who are looking for these type of creative commodities.
One of the main sources of Etsy's traffic, and consequently the sellers' central income pipe, is Google Product Search. But alas! Google has announced it is transforming the free-listings Product Search into the paid-to-play Shopping from the beginning of October. Whether this move is diabolic or not, it is likely to have a significant impact on sellers which relies on Etsy for their side or full-time income.
The switch to a paid-model will most probably have a negative affect on Etsy itself- Less sales on the marketplace due to reduced traffic to the sellers' product pages, obviously means less revenue for the company (Etsy charges $0.20 for four months of each item listing and 3.5% commission on each sale).
And when the holiday season (which is the busiest shopping time of the year for any e-commerce site) is right around the corner, Etsy knows it has to approach the situation swiftly for the sake of both the company and its many sellers that depends on the marketplace.
Therefore, Etsy announced it will invest $250,000 in Google Shopping ads from October and throughout the holiday season to make sure the marketplace's sellers will be included in Google Shopping search results. Although Etsy clearly has an interest of its own, it is still a noble move which will at least delay the sellers' declined income by a few months, after the lucrative shopping season.
Investing on behalf of the sellers in Google Product Listing Ads is a big bet for Etsy. It has to trust the products' quality of its community, so enough people who will arrive to the site from Google Shopping will indeed make a purchase. It is actually quite nice to see such a high level of trust and commitment.
Etsy will list (advertise) automatically all U.S. sellers' products from October in Google Shopping and the traffic stats will appear on the seller's dashboard. It is important to stress that Etsy currently doesn't has any plans to continue with the program on a regular basis, so from 2013 sellers might have to pay themselves to be included on Google Shopping.
For more information about the move, you can check out this forum thread.