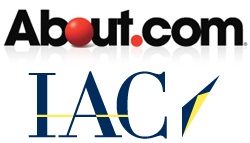 Sometimes it feels like people just don't want to learn anything from the past… The internet conglomerate IAC has agreed to acquire About Group from the New York Times Company for $300 million! Yep, just a "measly" $300 million for a company with a very vague future (even for such a capricious industry)…
About Group's largest property, and that constitutes most of the crazy sum of the acquisition, is of course About.com– A website which offers mostly general guides for a handful of topics such as computing, food, health, money and travel. All the content on the site is (supposedly) original and unique, created by a network of freelance writers.
However, although the site's articles (or guides if you will) can be sometimes quite useful, they aren't considered to be as really highly quality and professionalized on any specific topic. Again, that is not to say that you can't find its information beneficial at times, but for more profound knowledge about some topic you would probably seek for the information elsewhere.
The Google Dependency
The predominant traffic source of about.com is Google. According to Alexa, around 50% of the site's visitors are being referred from Google worldwide search sites (mostly Google.com) and in spite of Alexa's possible inaccuracies, that sounds reasonable and perhaps even a bit lessened. In any case, it is clear that About.com is hugely dependable on the algorithmic graces of the Google gods.
And that is the main issue which makes this deal so questionable to me (and according to my mom at least, I'm a pretty smart guy). No website with such an immense reliance on ONE traffic source should be acquired for this kind of money! If tomorrow Google will change its search algorithms unfavorably, all of the site's value may be sank down the web's toilet, as already happened to many others before.
What's making this situation even more fragile is the fact that Google is clearly heading into the direction of demoting general content sites and surfacing on their expense more authoritative niche sites. The major algorithm updates from the last couple of years like Panda or Penguin resulted this exact effect (with the exception of Wikipedia).
About.com might have only suffered a bit from these updates so far, but no one guarantee it won't be victimized from the next major update.
About.com Vs The Huffington Post Comparison
To illustrate why I'm so skeptic, let's compare About.com $300 million acquisition by IAC to the Huffington Post $315 million acquisition by Aol. While the deals' overall sum and the sites' traffic is rather similar, there are giant differences in the Google's dependency and content's quality angles between the sites.
Alexa is showing that the HuffPost receives only about 10%-12% of its traffic from Google, which is only one fifth as About.com's (in terms of percentages) and a very healthy condition in general. It means that if, hypothetically, Google will stop sending visitors completely to both of the sites, it would greatly impact About.com, yet not so much the HuffPost.
From content's quality point of view, well… I highly suspect that non of you were never really blown away from any of About.com's articles while The HuffPost had won a Pulitzer prize a few months ago. Not that any Pulitzer-winning publication is automatically better than others, but in this specific case I think it does reflects accurately the quality gap.
To finalize, I think that the New York Times Company made a pretty good a deal even if it lost about $100 million in value (it bought About.com for $410 million in 2005). As for IAC, I think it has a lot of work to lessen the reliance on Google's traffic if it want to keep About.com relevant in the future.