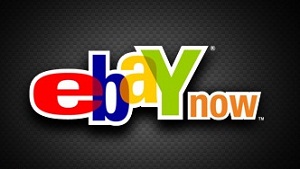 Greetings all you online retailers and lazy-ass shoppers! Did you had a nice profitable/spendable weekend? Got rid/heaped enough merchandise? Did you already said your little good week prayer ("may the kind lord bless us with many expensive/cheap sales/purchases this week")?
Okay, now that you feel sufficiently sacrosanct, here's a real interesting eCommerce tidbit which will bring you even closer to the holly spirit of online shopping- One of god's web retailing representatives on earth, eBay, is beginning to test a same-day delivery service called "eBay Now" in San Francisco.
Oh yes, eBay is taking a shot in one of the most challenging tasks for any eCommerce company which requires fast and efficient logistic operation. At the moment, eBay only sending invitations (link for an iOS app) to participate in the beta release of this program to users from San Francisco after registering in the program's sign-up page.
Of course eBay had to partner with a few featured store starlets (like Target, Bloomingdales, Best Buy and Macy's) in order to launch this first in-testing edition of eBay Now. New users that eligible to participate will receive a free $15 credit and a free delivery for their first three orders, and afterwards each eBay Now order will cost an additional $5 (a minimum of $25 purchase is required).
Currently there isn't any estimation when this new service will be expanded to more locations and what will be the terms and conditions for the average-Joe retailer to participate as well (or if at all).
This eBay's same-day delivery service, if will succeed and broaden, would strengthen eBay's rivalry with Amazon which is already offering this kind of same-day delivery service in a few selected cities. At the current rates, eBay Now seems more attractive than Amazon's $3.99-$8.99 per delivery plus an annual membership fee of $79.
But at this point the only real thing clear is that the eCommerce industry just became helluva lot hotter, trying to breach the unexploited sloth-market… Let's be honest here, most of us are just lazy-ass shoppers which predominantly prefer to receive the shit great stuff we order right into our doorstep within the hour (especially in this burning summer)!
H/T TechCrunch