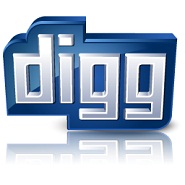 It's definitely the end of an era. One of the web's initial social networking pioneers Digg confirmed it has been acquired by Betaworks. Founded seven years ago, Digg set the ground for the social media revolution which later on swept away by Facebook and Twitter.
Like it or not, Digg changed the face of the internet and the world by presenting one of the firsts social networking site prototypes that has gained incredible popularity at the beginning but eventually left the fruits of success to others.
I remember that when I've just begun my journey as a site owner, Digg was the heart of social content distribution. Everybody were using it to submit their stories and praying that others would vote them up for increased exposure.
Obviously today online sharing is much easier and quality contents are being socially distributed (Like, Tweet, +1) much faster, but it still a bit pinching to see how a site which previously was perceived as the social king has now been scattered across all corners of the web.
As for the juicy details- The Wall Street Journal has first reported that Digg has been sold for absurdly $500,000- Anybody who has just the slightest tech-understanding knows that there's no fucking way that is the full story here.
Digg still receives considerable amount of monthly traffic (even the WSJ reported on over 7 million monthly visitors) and just throwing a few more AdSense ads would return this investment within a few months. What's up WSJ? Aren't you a traditional press publication which suppose to dig up all information?
And indeed, shortly after, TechCrunch's Alexia Tsotsis reported that even though Betaworks did bought Digg's domain and data for around $500,000, the Washington Post already payed $12 million before for Digg's engineering team and LinkedIn bought Digg's patent portfolio for around $4 million. (small win for the new media, woohoo!)
That brings the actual sum of Digg's total bisection to about $16-$17 million that sounds a lot more reasonable but still very far from the Google's reportedly $200 million offer which eventually didn't went through back in 2008. By the way, Digg's founder Kevin Rose now works for Google Ventures.
As for Digg's future, it's yet wrapped in fog. Betaworks stated that it will make Digg a startup again and will take it back to its essence, whatever the hell that means. Besides, Betaworks already have other similar social products- News.me which is mobile-based social news app and Bitly which just recently made a social overhaul.
In any case, whether you'll stay with us or not, it was a great ride so far Digg!