You don't have to be a super-genius to understand that easy navigation on a website is vital for the user experience and engagement. On eCommerce sites which features so many different products, offering potential customers the convenient ability to browse and to find stuff on the site is even more crucial.
One of the most traditional, known and highly adopted ways to navigate on websites is an on-site search engine. The problem is that most locally created and customized search engines are, how to say it gently… stinks. Anybody who ever tried to develop a search tool even for relatively small sites knows it's a complicated task which eventually produces mostly underperforming product.
Sure, you can implement Google Custom Search and even earn a few bucks along the way, but it still doesn't offer advanced search capabilities which can really boost engagement and sales. But now, Google brings those advanced capabilities to online retailers.
Google has announced on the launch of a new advanced search product pilot for eCommerce site owners in the U.S. called "Search As You Type". The SAYT tool provides enhanced search functionality such as autocomplete, photos and more product-related suggestions. Here's an example for the SAYT tool in action: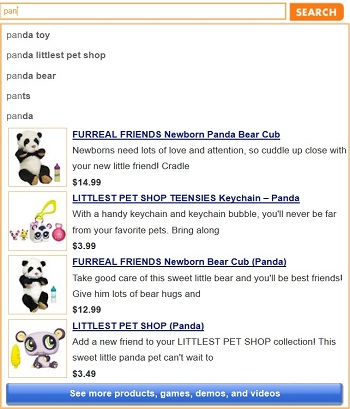 In the above example, right after I begun typing, the tool predicted that I'm referring to panda toys and displayed me all sorts of panda products including photos, descriptions and prices. Imagine how fast can a customer find and purchase what he/she was looking for using that! Additionally, they're being exposed to even more products which can increase sales. Pretty awesome, right?
Google is offering the tool to AdWords advertisers for free up to 25 million searches a year. Google says that beyond 25 million searches a year it will require some licensing fees but didn't elaborated how much exactly. If you want to see how it works you can visit SAYT launch partners Hasbro and Lowe's.
From what I've tried and impressed it really appears like a great addition for eCommerce websites which brings advanced search abilities to regular Joe retail sites. The program will expand gradually on the next upcoming months and if you want to participate, fill out the this form.