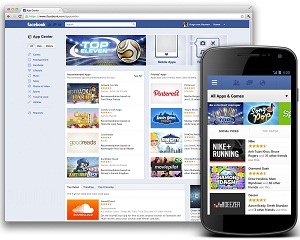 Facebook strategy for continuous growth of the company relies greatly on the adoption levels of its newly App Center which went live in the U.S. last month. But when only one out of five users is from North America, it was clear that a quick App Center's global expansion is inevitable.
So today Facebook announced that its App Center is fully operational in the U.S., Australia, Canada, India, Ireland, New Zealand, South Africa and the U.K. Additionally, the App Center will also go live in Brazil, France, Germany, Russia, Spain, Taiwan and Turkey during the next upcoming weeks.
Facebook obviously (and justifiably) didn't missed the opportunity for a little self-marketing- The company stated that since the App Center was launched in the U.S. at the beginning of June, "millions" used it to reveal new apps for mobile or web.
Not only that, Facebook also mentioned that app users which arrived from the App Center are more engaged (says Disney) and generates more revenue (says Flash gaming company Kixeye). That actually makes a lot of sense because app users which were referred by the App Center already demonstrated their will to participate in some app activity as they aren't just a passer-by.
The App Center bookmark will be available on the social network's fixed left sidebar on facebook.com and in the mobile apps for iOS and Android.
For Developers: App's Details In Other Languages
With the beginning of the international launch, Facebook now also allows developers to provide additional language translations of the app's details on the App Center. After the new app's details have been submitted and approved, whenever a user who speaks the certain translated language enters the app's page on the App Center, he/she will see the translated version.
If you are a developer and you wish to submit additional translated version(s) of your app's details on the App Center, follow the following steps:
Type your primary language details on the "App Center" tab from the App Dashboard.
Enter the "Localize" tab, click on the "Select a Language to Begin" and choose your desired language for the translation.
Type your translated app's page tagline, description and detailed description. The app's display name and publisher are optional.
Click on the "Save" button, go back to the "App Center" tab and click on the "Submit" button.
After the translated app's details will be reviewed and approved it will appear to users when eligible.
Developers should submit their translated app's details by the end of this week (Friday 13th) so it will be reviewed by the next global roll out of the App Center.