Hangout is one of the most popular features on Google+ as many users find its interface and the experience it offers very alluring and even a bit addictive for some. However, for people who are deaf or hearing impaired, joining and communicating with hearing participants in a Hangout was a difficult to impossible task.
So now Google tries to make the popular video feature more accessible to hearing-impairment users with a new app which will provide a live transcription (by humans) of the Hangout on a text box right next the video box.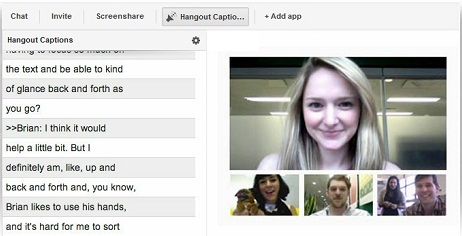 Google's Naomi Black from the company's Accessibility team presented on Google+ a new possibility to add live captions to improve the accessibility of the Hangout feature for the hearing-impaired by using a new app called Hangout Captions. At this point, the app only allows users to transcribe the Hangout themselves or use the professional transcription service StreamText.
Although the technology that offering live computer-generated captions already exist (Google uses it at some of its conferences), it isn't available yet on the new app and currently only humans can produce the captions. However, I'm pretty sure that it won't take too long before it will arrive to Google+ Hangout as well (or to other Google services for that matter).
How To Use Hangout Captions
Install the app plugin from this link and grant it the permission to access your information.
Click on the Hangout Caption tab and hit the setting icon.
Choose your caption provider- Yourself ("Basic") or by StreamText.
If you chose "Basic", start transcribing!
It isn't Google's first move to improve the accessibility for more users on Google+ with captions- About a month ago, the company also introduced the option to add subtitle files to videos. Google definitely deserves all compliments for making its social platform more open for all, even if there isn't any revenue-interest involved. Kudos Google!
Here's a short video of Naomi Black discuss about the new Google+ Hangout Captions app in sign language: