This is huge. Explosive. Game-changing. And extremely lucrative. For the first time ever Facebook begun displaying its sponsored stories ads on an EXTERNAL website, a step which can suggest that the social networking giant is intending to take its advertising business abroad.
You can witness the miracle yourselves if you'll visit Zynga.com and login via your Facebook account. Then, on the bottom right corner of the page, instead of where Google AdSense ads used to be located, you will now find (surprise, surprise!) Facebook sponsored stories ads.
As you can see from the screenshot below, Zynga is now serving Facebook ad units on its own standalone gaming site. When clicking on the "Sponsored" link, it takes to a help page that describes briefly the type of Facebook advertising on Zynga.com without really revealing anything about this mysterious initiative.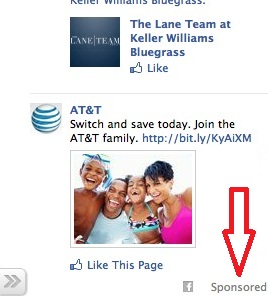 It is also interesting that now there aren't any Google AdSense ads anywhere on Zynga.com, while earlier I saw an AdSense banner ad alongside the Facebook ads. Although there isn't any trace for AdSense code on Zynga's site, it isn't clear who pulled the plug first- Google or Zynga.
It could be that Zynga decided to go all the way with Facebook advertising while cutting off Google ads completely or it also could be that Google was actually the first to stop displaying its ads on Zynga's site due to its strict ad placement policies of other advertisers on the same page.
According to AdSense policies, additional third-party ads are allowed on the same page with AdSense only if they are clearly distinguished (by color, format, etc.) from the AdSense ads. It is possible that the AdSense team didn't thought that Zynga complied to those policies regarding Facebook ads.
But no matter what happened, Facebook is signaling about the company's advertising expansion intentions OUTSIDE of the network. I strongly believe that Facebook is currently piloting an advertising network for third-party websites with Zynga as it prepares for a broader launch at some point in the future.
Google has a lot to be scared about if and when Facebook will roll out an advertising network. Site owners would obviously be more than happy to implement highly engaging social ads for more revenue which can grab a big chunk from AdSense profits, currently the largest advertising network for third-party websites.
On the first quarter of 2012 Google earned almost $3 billion from AdSense ads on third-party sites, which were 27% of the company's total quarterly revenue. That could be a big hit for Google profits and a great lucrative opportunity for Facebook to monetize its nearly a billion users community.
Another winners from this possible move by Facebook are of course site owners which could now have a potentially more profitable advertising network to work with and perhaps even with both Google and Facebook ads together (if AdSense policies will allow it).
It seems that Facebook investors were pretty satisfied from this revelation- The company's stock rose by 3.8% yesterday.