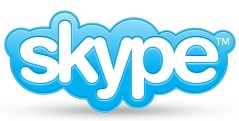 It was very clear to me when Microsoft acquired Skype back on May last year for $8.5 billion, that it's just a matter of time before the highly popular internet phone service will begun to monetize the platform. The only thing I find surprising, is that it's happening only now.
But to be honest, after 9 years Skype branded itself as the leading Voice over Internet Protocol (VoIP) service, I guess it's mature and cooked enough to start generating some revenue. I'm sure that Microsoft's shareholders pressure to see some profits from an $8.5 acquisition played its part as well.
So how exactly Skype is going to pay the rent for its landlord? Skype's vice president of corporate development Sandhya Venkatachalam wrote on a blog post that the service will begin displaying ads (named "Conversation Ads) for Windows users who don't use Skype Credit or the service's subscriptions (let's just call them freeloaders).
As in the screenshot below, whenever freeloaders are making an one-on-one free audio call they might see 300×250 ad on the app. Advertisements won't appear on video calls or group calls (at least not yet). If you are a paying customer, the service will remain ads-free (again, at least for time being).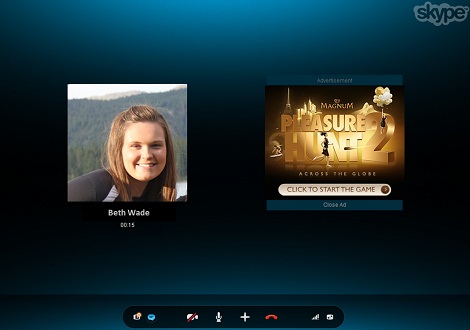 Venkatachalam writes that in fact, the new Conversation Ads content could just assist users by "spark additional topics of conversation that are relevant to Skype users". (Here's comes the awfully sarcastic part) Wow, thank you Microsoft/Skype for being so graceful and generous to help all those simple people to communicate with each other!
But back to seriousness, these ads have a great potential for marketers and advertisers which can target pretty accurately their specific audience according to their age, location and gender. Skype Conversation Ads will be available for advertisers within the 55 global markets Skype is operational.
According to Skype data, the service has over 41 million unique visitors every month which spends 13 minutes each visit on average. More than 60% of Skype's users have have a household income of over $50K and about 80% of all its users are shopping online at least once a month. That's a crowd marketers loves.
What about ads for non-paying users of Mac? Currently, ads won't displayed for Mac's freeloaders but I'm positive it's just temporary until the Conversation Ads will also assist Mac's plain folks to spark some discussions. There's no reason why would Microsoft won't "benefit" Apple's freeloaders in the near future as well.
For more information about Skype's Conversation Ads you can visit this specifications page.