I am in the content creation business and I'm always looking to find the freshest rising-popularity stories, reports, studies, news and basically every piece of content which could be interesting enough for me and more importantly for my audience to babble about.
Google has some nice service called Hot Searches (under Google Trends) which shows all the most recent hottest trending U.S. search queries. Supposedly, it can be a great service which offers me exactly what I'm looking for, right? But it isn't. In fact, it's quite crappy.
However, today Google announced they are upgrading Hot Searches with some new improvements:
More visual results with rich images.
Related links to sites will be displayed.
Only the "truly hottest news stories" will be shown instead of 20 results.
Uprising related search terms will be aggregated into one entry.
After I was reading Google's post and the above improvements, I was very excited and thought to myself "wow, now it can really be a fantastic tool for me to use!" and I rushed into Hot Searches only to discover that… Guess what? It still crappy.
Although Hot Searches is more visualize with the thumbnail images and there are good quality links to reputable sites on each entry, which are definitely improvements, overall this service still has lots of flaws. For starters, it now shows very few rising search terms for each day. Here's an example for today's Hot Searches: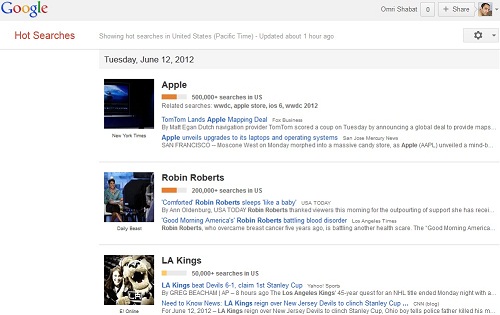 Three searches, really? There weren't any more rising searches besides "Apple", "Robin Roberts" and "LA Kings"? Just to be sure I checked couple of weeks before and each day only 3-7 entries appears. Come on Google, give me the content results that I'm so eager to discover! Why are you so cheap?
I don't just think they have to increase drastically the number of daily entries but also to serve Hot Searches categories so people would be able to find the trending terms that really interests them easily. I really believe that if Google will go the extra mile here, Hot Searches could become a really valuable and popular service. Right now it's pretty useless.
Oh well, at least we tech fellows still got Techmeme.