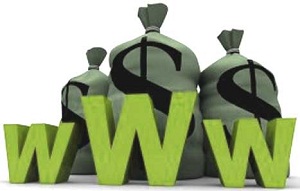 For those of you who remained skeptical about the internet advertising industry's ability to continue growing when the whole world is still basically under an ongoing financial mess, I think that the following reports might just convince you otherwise.
As a new report by the Interactive Advertising Bureau (IAB) is indicating, not only that the internet ad revenue is staying stable, but during the first three months of 2012 it reached for an all time high record compared to previous years' parallel periods.
The first quarter of 2012 produced a new record of $8.4 billion in online ad revenue, which reflects an increase of 15% from the first quarter of 2011 ($7.3 billion). It is quite amazing to see how the internet ad industry just keep on pushing forwards over the past 16 years: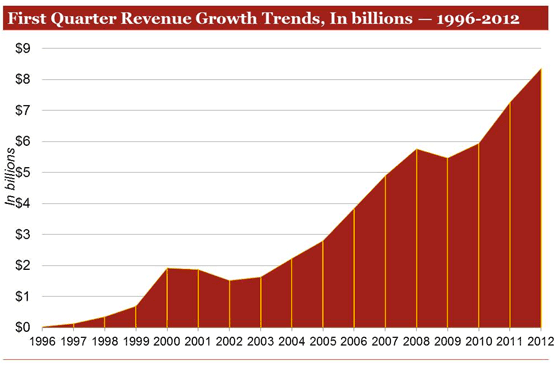 One of the main reasons attributed to the constant internet advertising growth is the rise of smart mobile devices which enables people to stay connected to the web wherever they are. Another recent study has indicated that mobile web traffic already constitutes for about 10% out of all web traffic.
The IAB partner for the report, PricewaterhouseCoopers (PwC), shared some more insights and future predictions about the digital advertising spend. The PwC predicts that by 2016 there will be nearly 3 billion mobile web subscribers and about third of those will come from China.
Amazingly, the mobile internet ad market alone will reach for $24.5 billion by 2016 while China will contribute over 25% of this mobile web revenue ($6.2 billion), second only to the U.S. which would be responsible for nearly 40% of the mobile internet ad revenue ($9.4 billion).
But with all due respect to the phenomenal growth of mobile internet advertising, the PwC also believes that by 2016 the biggest online ad formats will still remain paid search ($78.1 billion) and display advertising ($46.6 billion) still far ahead from mobile ad revenue.
I think that the IAB president and CEO Randall Rothenberg has summarized the simple logic behind the internet advertising growth pretty accurately:
More online consumers than ever are taking to the internet to inform and navigate their daily lives- By desktop, tablet or smartphone. Marketers and agencies are clearly and wisely investing dollars to reach digitally connected consumers.