A hundred billion dollars isn't cool, you know what's cool? The super awesome launch of Airtime.
After changing the music industry together, the Napster founders wants to start another revolution. The two bad boys of the startup industry, Sean Parker and Shawn Fanning, are launching today their long-anticipated and aspiring social video chat startup which aims to connect between people by using their webcam, Airtime.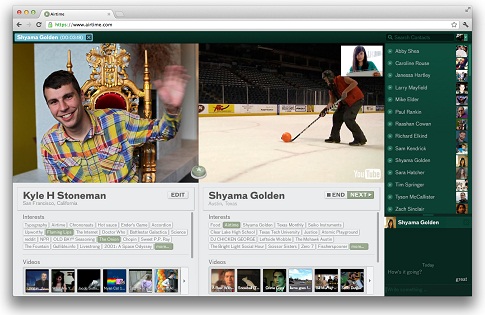 After two years of baking this new video chatting platform and collecting more than $30 million in funding, the young company is holding today its press event in NYC, announcing on the official launch of Airtime. But Sean and Shawn didn't want to settle with just the nerds on this event, so they also invited the cool guys!
Some of the big names on the event today are Jim Carrey, Olivia Munn, Martha Stewart, Snoop Dogg, Ed Helms, Julia Louis-Dreyfus, Kristen Bell and Joel McHale. Oh, and Jimmy Fallon is apparently hosting this party-conference. These guys knows how to arrange an event…
As for the product itself, Airtime is a platform that designated to connect between users who share the same interests even if they aren't necessarily knowing each other. Airtime is based on Facebook (login through Facebook Connect) and upon the social graph of users on the social network.
Airtime's design put the two connected-users in the middle, where their webcam appearance takes most of the screen's real estate. Below each user, you can find his/her name, location and a list of interests. On the right sidebar appearing all the user's Facebook friends which at the moment also connected to the service.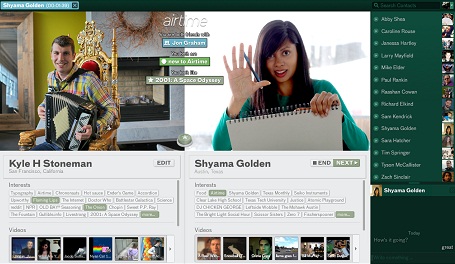 When searching for people to interact with, Airtime algorithms are basically searching through the network by accessing the user's Facebook data and his interests to find a suitable partner for the video chat. The user can also define and filter the search based on only friends, friends of friends, location, interests and more.
What seems to be the main feature of the service is the option to watch a video from the web while discussing and commenting about it together. If the user shared on his past a video on Facebook, it will appear below the list of the user's interests so it would be easy to find and share it with the chat partner.
Sean and Shawn also recognized that some users might try to abuse the platform with all kinds of inappropriate behaviors and therefore Airtime operates human moderators which overseen the network's activity and ban abusive users when necessary. Additionally, all users are able to flag abusive users themselves.
Eventually, the only real questions that will remain after the explosive press event is how many users will adopt Airtime and how they'll engage with it. The giant success of Draw Something already proved that it is possible to create a mass connection between two strangers, but in Airtime this connection is much more close and intimate.
Although there are many video chat features and services online like Google+ Hangouts or Skype, Airtime definitely brings something new that centers around the connection of two people through a webcam. It will be fascinating to see if this "social experiment" will succeed.
Sean and Shawn already changed the world as we knew it couple of times before (with Napster and Facebook). Will they do that again?