Imagine a world where language limitations over the internet don't play any part and can easily resolved with a click of a button. A whole new broad spectrum of websites becomes open for everybody, no matter which language they speak and understand.
The potential for site owners in this ideal virtual world is HUGE. Visitors will no longer visit just websites in languages they are familiar with because this "small" restriction doesn't exist. If the content on the site is good enough (regardless to the language), traffic could be multiplied.
Although we are obviously not there yet, we're  still heading into this direction, probably faster than what most think. Another small progress has recently been made in this area, when Google presented an improvement to its Website Translator plugin.
Solution For Inaccurate Translations
If you don't know this plugin, this is essentially a language selector bar that appears on web pages where the plugin has been installed and when selecting some language, the page is immediately translated into this language (using Google Translate). The plugin continue to translate pages while browsing the web through the translated version.
The problem is, as anybody who has some experience with Google Translate knows, that the translated version in many cases isn't accurate enough and sometimes doesn't even make sense. So now Google introducing a new feature which would grant site owners more control over the translation.
The feature (currently in beta) enables to tweak the translated version of the page when it doesn't offer the best translation. After installing the plugin, simply hover over the phrase/sentence you wish to change and click on "Contribute a better translation".
On the window that opens, you can choose an alternative translation which Google Translate offers or you can change it completely yourself. Here's an example how it looks like: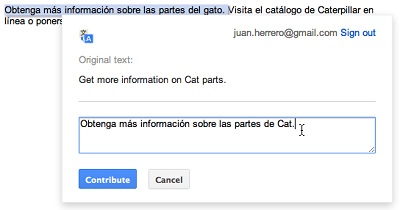 If the site owner is signed into his Google account where he verified his site ownership, after making a change using this feature it will go live immediately. If someone else is making a correction, it won't appear until the site owner will approve this change on the Website Translator suggestions page.
Although this plugin and the feature are available to anybody for free, Google hinted that it might change in the future. I suppose that when Google Translate accuracy will improve drastically and become essential for increased exposure, there will also be an economic sense to charge people for the plugin.
However, I certainly want to believe that it would remain free.