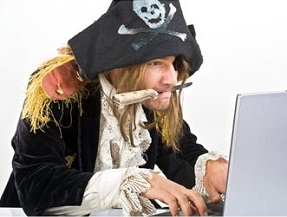 Online piracy and content infringement are a huge pain in the ass for almost any large organization with an established presence over the internet. In fact, although the big content creator players are the main target of the "pirates", smaller fish also suffers from this phenomenon.
And yes, I'm talking from personal experience.
Google, as the biggest source of traffic online, is battling constantly with content infringements by removing pages which violates copyrights of others from the search results (as it required by the Digital Millennium Copyright Act). Last week, the company began offering a deeper public gaze into the scale of the online piracy war.
The search giant has posted on its official blog that it is adding a new section into its Transparency Report called Removal Requests. In this section, the public can see how many URLs have been asked to be removed from the search index, which are the copyright owners which their contents were violated, the organization who reported it and the infringing domains.
The scope of copyright violations and requests for removal is enormous. So far, over the past month (until May 28th) more than 1.2 million URLs have been asked to be removed from 23.5 thousand different domains which allegedly violated the copyrights of 1,309 content owners.

According to the data, there's a clear rise in URL removal requests since July 2011- While back then the norm was about 100 thousand requests per week, in the last few week it's already was closer to 300 thousand when on the week of May 21st it peaked for an all time high of nearly 360 thousand requests.
Among the all time top copyright owner which filed a DMCA complaint (by themselves or by third-party organizations) you can find Microsoft with 2.6 million URL removal requests, NBCUniversal far behind second with about a million removal requests, the RIAA is third with over 400 thousand removal requests and the BPI is fourth with more than 350 thousand requests.
Not surprisingly, almost all targeted domains are file sharing sites. Very interestingly, Google also provides data about the domain's removal requests percentage out of the total site's URLs indexed. 5% of the indexed URLs of some sites have been asked to be removed although I'm sure some will argue it suppose to be closer to 100%…
Even though the number of removal requests is on its peak, Google reported they are now processing the requests in less than 11 hours which is very impressive. I can testify myself that few months ago they have processed removal requests within 24-48 hours which I thought was pretty fast. Today's process time is amazingly awesome!
Of course it doesn't mean that Google will comply to any request. For example, according to the government agencies Transparency Report Google didn't comply for 2 requests from U.S. law enforcement agencies to remove YouTube videos which been categorized as defamation requests but didn't infringe any copyright.
If you feel that someone has violated your copyrights you can file a URL removal request through this page.