Couple of weeks ago, after I was reading The Verge's amazing piece Scamworld which highlights the ugly Internet Marketing scams phenomenon, I called it a masterpiece. Few days later, I thought that perhaps I've overreacted so, during the last weekend I've been reading this LONG piece all over again.
My initial reaction, as in most cases, was justified. Scamworld is indeed a masterpiece. Moreover, as someone who works on the white side of the marketing industry, I felt that I had to write something of my own to draw a clear border between legitimate marketers and those scammy bastards.
Here, I want to describe a few things that might help you identify if you are dealing with a scam/fraud. I know that probably most of you will find these things as very trivial. however, even if just a small portion of people will find this post useful and it will keep them away from a trap, it played its role successfully.
Videos
Those fuc*ing scammers simply love to create videos. In those videos they portray themselves as super-cool-regular-dude millionaires that found a way to make millions out the internet. They will show you luxury cars, big houses, their hot girlfriends (in their swimsuit of course, as they usually wear) and stacks of cash.
They will praise themselves as they manipulatively imply that if normal guys like them can do it, so can you! Another thing about scammers and videos- Apparently, they don't like buttons in their flash video players. In any case, here's a typical scammer video (don't worry, with buttons and everything):
Promises, Promises, But What's The Product?
Scammers tend to promise a lot of things: "Make Quick Money Online", "Proved Working System For Profits", "Automatic Money machine", "Commissions Monster", "Already Paid $7,042,774.72", "Mass Income Generator", "Profits Explosion Guaranteed", "Daily Income Maker" and more phrases that appears to good to be true (because they are not).

When trying to figure out what exactly is the product or service or ANYTHING, you hit a brick wall. You see, "the product" (if there's a product at all) is just a bunch of crappy ebook pages or videos without any real value. The scammers are relying on people's despair and their yearn for lucrative future.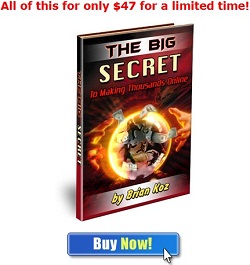 Pitching Tactics
The Internet Marketing scammers have a few common pitching tactics to try luring people. Here are the three most popular ones:
"Secrets"-

The scammer will try to offer some access to privilege information where you'll discover his "secrets" for marketing, making money, ranking number one on Google, mass of traffic and other lies.

"Limited Time Offer"-

The scammer will present a product for a limited time and afterwards it will completely vanish from the earth (NO!!!).

Payment Proof-

The scammer will show million dollar AdSense account, daily earning graphs, tax returns and more "payment proofs". All can be forged with a few lines of code.
ClickBank
ClickBank is one of the largest affiliate networks on the web. It is a legitimate business by itself that offers completely legal service. However, most of the scammer's products resides within ClickBank. The reason for that probably relate to the fact that it is the only one that letting them in…

It seems that ClickBank has less severe guidelines for vendors than other affiliate networks which makes it the preferable place of scammers to promote their crippy/crappy/shitty/scammy products. In fact, it hosts all the main Internet Marketing scumbag players.
Now, I'm not saying you should stay away from any ClickBank product because there are also great products within CliCkBank network. However… If it's an Internet Marketing or make money related product, you should be very very careful…
The Salty Droid
OMG. The Salty Droid is the best anti-scam blog on the PLANET! Jason Jones, which been featured on Scamworld, is running the site and he is so talented! He is covering, reviewing, trashing, slamming and smacking those who engage in fraudulent activity online in a very black-humor funny way.
I would advise anyone that wants to find a deep coverage about the dark side of the internet to visit this amazing blog. So there will be no mistakes, the blog's slogan is "…you can't make money online."
The Names
Lastly, if you see the following Internet Marketing "guru" names on sites/pages/products/services/social networks/forums, it is a scam (thank you Salty Droid):
Frank Kern
Andy Jenkins
Anik Singal
Anthony Morrison
John Raygoza
Jeremy Johnson
Eben Pagan
Perry Belcher
Yanik Silver
John Reese
Jeff Johnson
Jeff Walker
Ryan Deiss
Mike Koenigs
Dean Graziosi
Ed Dale