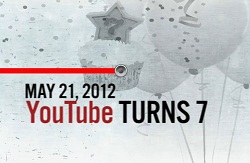 There are some great online video-sharing sites out there. Vimeo did a lot of progress over the past 12 months, Ustream offers great live video service, Viddy is rapidly growing and those are just few examples for fantastic video-sharing services.
But with all due respect to all these excellent sites and apps, even they know that the competition is really only for the second place as just the number one's brand name is a synonym for online video. YouTube.
Actually, YouTube is not just the most popular video-sharing site, but it is also the second most popular social networking service worldwide. The Google-owned video site has celebrated couple of days ago its 7th birthday and revealed some staggering stats.
Almost Equal To Facebook
A very interesting number is the 800 million unique visitors YouTube has each month. Even though it isn't a traditional social network, this figure placing YouTube in the social media arena as second only to Facebook among its 900+ million users.
In fact, in the U.S. Facebook and YouTube are almost equal- Both of the social networking services have nearly 160 million monthly visitors and in both, users spends an average of about 400+ minutes each month (according to comScore).
Somebody said that Google doesn't has a popular and engaging social networking service?
72 Video Hours Uploaded Each Minute
Another astonishing piece of information YouTube has disclosed is that every minute, 72 hours of video are uploaded to YouTube. That is three days of video EACH MINUTE. 1.2 video hours EACH SECOND. A-M-A-Z-I-N-G.
It is fascinating to see how people are uploading a constantly growing number of video each minute to YouTube over the years:
2007- 8 hours
2008- 13 hours (+62.5%)
2009- 24 hours (+84.6%)
2010- 35 hours (+45.8%)
2011- 48 hours (+37.1%)
2012- 72 hours (+50%)
When examining these numbers deeper, we will see that from 2007 until 2011 there is a natural decline in the amount of video uploaded growth rate. But in 2012, the growth rate jumped above the numbers of 2010-2011. Why is that? I can think about three reasons:
Mobile- The incredible rise of smart mobile devices with more advanced cameras, makes it easier for people to capture videos and upload them to the largest video-sharing site, YouTube.
Social- The explosion of social media and online sharing obviously benefits video-sharing sites as people wants to socialize their life experiences which captured by video.
Better Technology- Faster internet connection, friendlier apps, easy-to-use video editors and more are a great boost for online video.
Here's a nice video the YouTube team released to mark their 7th birthday: