Alright, so it is clear that Facebook pages are being used by millions of business owners all over the world every day. It is also obvious that mobile is rising and particularly iOS devices. The question is, why not connecting between the two?
Until now, Facebook page owners didn't had a proper possibility to maintain their page through Facebook's mobile app and they had to use a web browser, which can be pretty difficult on mobile devices, or through their desktop computers. That is, as I stated, until now.
As first caught by 9to5Mac, Facebook began releasing a new "Pages Manager" app where page's admins could run their pages from their iOS mobile devices (iPhone, iPad and iPod touch). Note that it is a separate standalone app from the regular incredibly popular traditional Facebook app.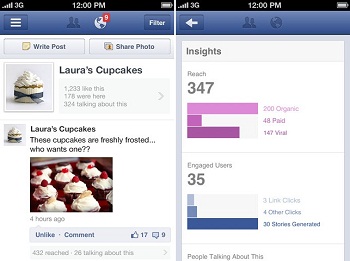 The interface of the Pages Manager app is similar to the familiar interface of sharing, posting and commenting as the regular Facebook app, only after the log-in stage it shows all the pages which the user has admin authorization on (yep, multiple pages managing).
One great addition that's available on the Pages Manager app is Insights (as you can see in the screenshot above), so admin could access their page analytic data such as reach, engagement and the "People Talking About This" metric in a friendly way.
The new app can be EXTREMELY useful for people who run Facebook pages but they are always "on the road" and their mobile device is the only way they can fluently update, react, share and follow their page's activity conveniently.
The app is already available in Canada, New Zealand and Australia. It expected to arrive the U.S. probably today or tomorrow. I didn't managed to find it in Google Play yet and I'll try to find out when it will arrive for Android devices.
I will update when I'll have more details.