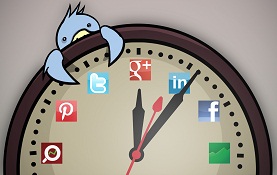 I'll bet many of you content creators have encountered this self-debate many times- You've just published a great piece of content and you obviously want to expose it to as many people as possible. But you just not sure when is the right time to get the message out there…
You ask yourself, should I post it to the social media now or a little later when possibly more people will be connected to their social account and there would be a higher probability they'll find the post?
Well, a recent study by the URL shortening service Bitly may just help you with this decision. The study analyzed in what hours and in which days social links receives the most attention (based on click-through rate) for Twitter, Facebook and Tumblr. The hours are based on U.S. Eastern Time, so take that under your consideration.
Bitly also published some visual plots that suppose to emphasis when are the "busy times" on the specific social network but I found them as a bit confusing, so I'll just summarized it up for you. Here's an example of a plot of Twitter:

Twitter
Recommended to post on Monday to Thursday at 09:00-15:00.
Especially recommended to post at 13:00-15:00.
Not recommended to post after 20:00.
Especially not recommended to post after 15:00 on Fridays.
Facebook
Recommended to post on Monday to Thursday at 13:00-16:00.
Especially recommended to post on mid-week 13:00-15:00.
Not recommended to post before 8:00 and after 20:00.
Not recommended to post on the weekends.
Tumblr
Wait until 16:00 to post and especially recommended after 19:00.
Surprisingly, recommended to post on Friday evening.
Although this study is pretty useful, you should still remember that you never really know who is online at the moment you publish that can reshare, like or just enter your post. Also, if you work globally this research may be less relevant (in one part of the world people asleep and in another awake).
Lastly, if your content contains breaking news or something very important to you, I would suggest to post it into the social media in two cycles- First, immediately after you publish it and second, when you think it will receive as much exposure as possible.